Yurts For Business Use
Build your bottom line with Pacific Yurts
Today people are looking for unique experiences and many business owners have discovered the amazing potential of our yurts to generate new on-going sources of revenue. Round, fluid lines and an abundance of natural light during the day and view of the stars at night create a feeling of spaciousness and relaxation for people from all walks of life. As simple, comfortable retreats or luxury accommodations with full amenities, the unique qualities of the yurt create happy customers who keep coming back for more. Download our Discover Brochure for more inspiration!
"We are very impressed with the quality and ease of installation of our Pacific Yurts. In the past, our department has provided facilities, but with the yurts we are providing an experience! Many people have told us that their experience in the yurt will be a wonderful life long memory. They are cool in the summer and warm and cozy in the winter. Pacific Yurts have proven to be a top quality product that can handle the elements, are very popular with the public, and generates revenue."
– Leo H., Idaho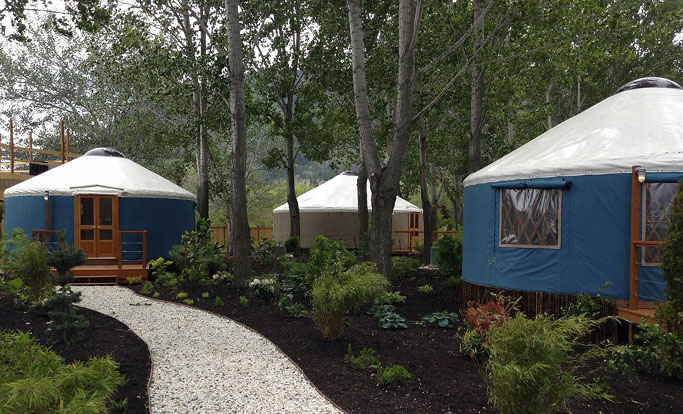 Campground Rentals
Pacific Yurts provide a unique alternative to cabins and meeting halls for commercial campgrounds and resorts. Our commercial clients report that their yurts offer guests much more than just another shelter in nature; they are a source of lifelong memories and a sense of romance and adventure. This keeps guests coming back time and again and provides an ongoing revenue stream for the campground or resort. In fact, the yurts are often booked months in advance and more popular than the cabins.
Often, Pacific Yurts are grouped together in a specific area or camping loop to create what managers call "yurt villages". In a group they are easier to check and clean, and can be situated near one restroom/shower structure to help conserve facilities.
Ski Resort
Ideal for both nordic and downhill ski areas, Pacific Yurts are being used as warming huts, overnight lodging and rental facilities. The versatile yurt offers all-season comfort and strength in snow, and represents an easy, quick and economical way to expand a facility.
Pacific Yurts have helped ski resorts across America expand their recreational offerings and increase their appeal by adding unique activities such as yurt-to-yurt skiing, dog-sledding and snow-shoeing.
"Let the wind howl and the snow pile up!"
– Bill O. and Bob W., Ski Bowl Ski School, Oregon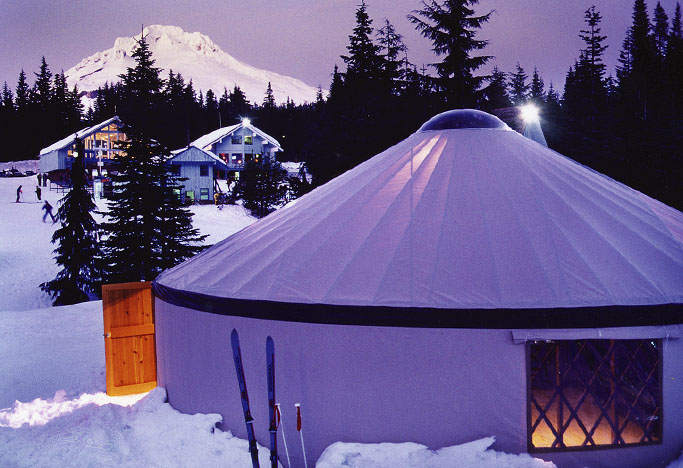 Camps
Pacific Yurts are widely used in Girl & Boy Scout and other youth camps, day camps and in a variety of resort camps. Yurts can help accomplish several goals for managed campground systems, including:
Facilitate year-round camping
Expand campground capacity at a relatively low cost
Provide a low-impact alternative to permanent structures
Provide seasonal employee/counselor housing
Offer a unique camping experience that keeps them coming back
"The yurts are the centerpiece of Camp Wilani. Our staff and campers love them! They are our biggest selling point to user groups and everyone wants to stay in them because they are so cool."
– Herb P., Camp Wilani, Oregon

"Our girls are so happy! All six yurts are set up and ready for troop camping."
– Mary Ann C., Girl Scouts, Illinois
Wellness and Retreat Centers
The interior of the Pacific Yurt often invokes a special feeling that is at once indescribable and immediately apparent. The round, fluid lines and natural light create a feeling of spaciousness, warmth and relaxation. The circular design lends itself to gatherings where people can be together without the regimentation that four square walls may impose.
For this reason, fitness trainers, yoga instructors, retreat center operators and other individuals and groups seeking to create a nurturing environment for their activities have chosen Pacific Yurts.
"I stepped inside and something just clicked."
– Joan H., Ojai Foundation, California

"The yurt has provided me a marvelous separate space for bodywork. It feels special just to be inside! I love being able to provide an aesthetic experience for people."
– Kate F., Oregon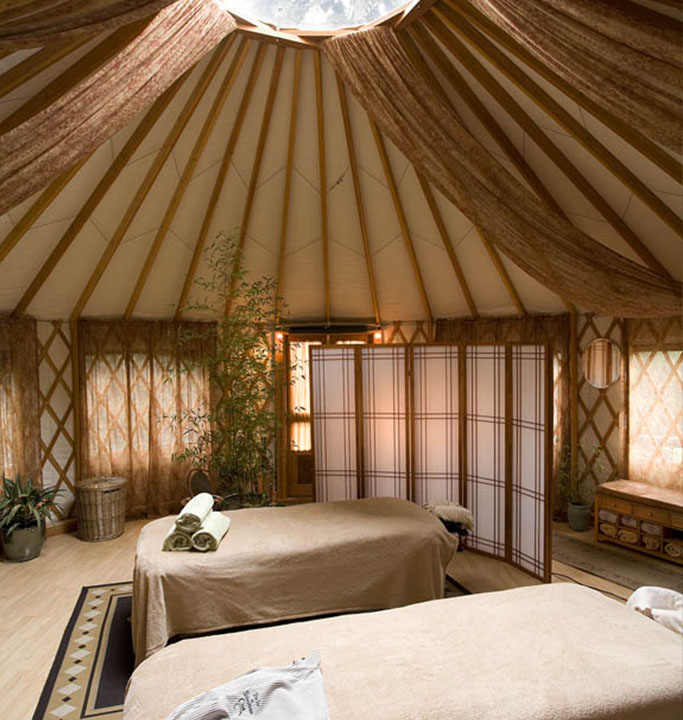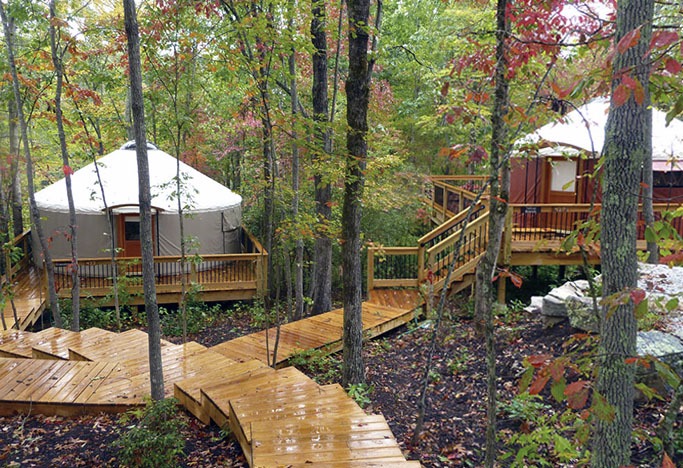 Adventure Travel/Glamping
The Pacific Yurt has become an outstanding solution for ecologically responsible tourism and adventure travel around the world. Pacific Yurts can be found in exotic adventure destinations as diverse as the Grand Canyon, Sun Valley, Catalina Island and Tokyo National Park and in countries as widespread as Australia, Chile, Costa Rica and throughout Europe.
Developers are discovering how well the characteristics of the Pacific Yurt complement their sustainable philosophies while creating a profitable infrastructure:
Round, fluid lines help the yurt blend with nature.
Post-and-beam supported platform minimally impacts the earth.
Portability and ease of installation in remote locations provide a connection to nature without sacrificing comfort, security and protection from the elements.
"Our development research showed strong trends toward ecotourism and outdoor activities. Yurts provide the uniqueness that we needed to separate us from others. The quality of Pacific Yurts sealed our decision."
– Rick C., North Carolina