Yurt Builder 3D™
The Yurt Builder 3D™ pricing tool is for illustrative purposes only. To place an order, please contact a Pacific Yurts representative at 800-944-0240.
SPRING SAVINGS - Order your new yurt by May 31, 2019 and take $700 off 20' - 30' yurts or $500 off 12' - 16' yurts!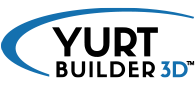 Estimate Total: $8,125
The total price does not include shipping. Contact us for more information.
Prices subject to change without notice. Platform/floor not included.
Note: See FAQ for sales and use tax information.
View popular designs
or continue to STEP 1 to CUSTOMIZE your yurt
Choose your yurt size by diameter.
Side Cover Colors
Optional Vinyl Side Cover is also available.
Door in the 6:00 position is included.
Door Style:
Step 5 Choose your
Window
Two Fabric Windows included at no charge.
Step 6 Choose your
Add-ons
Need a yurt right away? Ask us about our Quickships!