Yurt Builder 3D™
The Yurt Builder 3D™ pricing tool is for illustrative purposes only. To place an order, please contact a Pacific Yurts representative at 800-944-0240.
FREE Snow and Wind Kit with any new yurt purchase - August 13 through September 30 - SAVE up to $835! Contact us for more details.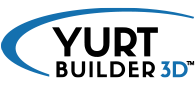 Estimate Total: $8,450
The total price does not include shipping. Contact us for more information.
Prices subject to change without notice. Platform/floor not included.
Note: See FAQ for sales and use tax information.
View popular designs
or continue to STEP 1 to CUSTOMIZE your yurt
Choose your yurt size by diameter.
Side Cover Colors
Optional Vinyl Side Cover is also available.
Door in the 6:00 position is included.
Door Style:
Two Fabric Windows included at no charge.
Step 6 Choose your
Add-ons