Standard & Custom Features
A commitment to quality that is obvious in every detail.
When you order a Pacific Yurt, you are purchasing the yurt with the highest quality standard features in the industry – of that you can be confident. When we pioneered the modern lattice wall yurt, that was only the beginning. Since then we've developed a vast array of custom options to personalize and enhance your yurt according to your individual needs and site requirements. Each option has been extensively tested at our facility and on our own personal yurts.
From energy efficient glass windows systems to beautiful French doors, we have the options you need to make your Pacific Yurt truly a space of your own.
"I've long been admiring the works of Pacific Yurts of Cottage Grove, Oregon, the original U.S. yurt maker. They create a versatile, high quality, affordable product, which has the advantage of having more have-it-your-way options than any other. And they have excellent customer service as well."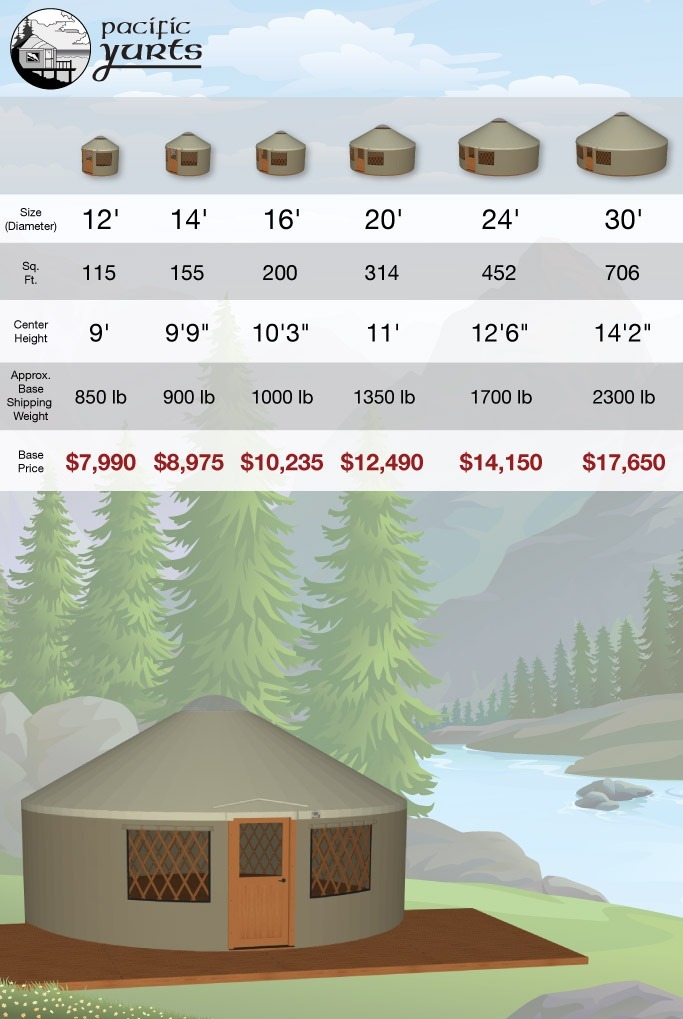 Standard Features – All Models
The entire wood frame of the Pacific Yurt is constructed of beautiful kiln-dried Douglas fir that is sanded and coated with a penetrating oil for a stunning natural finish.
Lattice Wall: The expandable lattice is constructed of clear, vertical grain lath and is assembled with aluminum rivets. Finished height is approx. 7′.
Rafters: High quality, structural grade rafters include hardened steel pins and are notched to fit onto the tension cable.
Center Ring: Strong and elegant, our compression ring is laminated and through-bolted for additional strength.
Door: Beautiful solid wood door with window and inset wood panel comes pre-hung and includes weather stripping. Solid brass hinges with bronze finish, quality lockset and aluminum threshold provide long term durability.
Dome: Durable, low maintenance, clear acrylic dome skylight provides an abundance of natural light and a view of the sky.
Tension Cable: Aircraft quality galvanized steel cable is precut to the proper length and permanently swaged.
Side Cover: This acrylic coated polyester fabric provides exceptional strength, durability and low maintenance; easy clip-on design.
Fabric Windows: Two large windows (54″x45″), which open from outside, are made from clear vinyl framed in marine quality velcro. Windows include zippered weather flaps and sewn-in screens, which means mosquitos stay outside.
Top Cover: This flame retardant vinyl/polyester fabric provides excellent durability, low maintenance and protection from the elements. It carries a 10-year material manufacturer's warranty. Overhead seams are electronically bonded together and are impervious to moisture.
Rain Diverter: Inverted V-shaped fabric pouch with rigid PVC inserts is welded to the roof and diverts water away from the entry. A rain diverter is included over every door.
Instructions and hardware: Detailed set up manual and installation hardware are provided along with recommended platform construction plans.
Wall Options
Side Cover: Our side cover is an acrylic coated polyester fabric. Proven performance assures you of long lasting value. A wide variety of colors are available – a digital copy of our Fabric Options card is available here.
Additional Fabric Windows: Windows can be located around the perimeter of the yurt, to take advantage of a view and coordinate with your interior layout. They also furnish additional light and ventilation, adding to the spacious open feeling of the yurt. 
Glass Window System: Our glass window system is truly unique in the industry. It features an openable, efficient low-E thermal glass window mounted to a structurally engineered curved frame to match the circular shape of the yurt. This innovative design eliminates the "flat panel" look used by others, and our exclusive fabric flange assures a weather tight seal. Order with a new yurt or retrofit to your existing Pacific Yurt. Customize with your own finishing touches such as shelving, blinds or curtains. Includes trim kit and removable screen. Not available on 12′ and 14′ models.
Window Awning Frame: Consists of an adjustable, anodized aluminum framework to support the window flap. This creates an overhang allowing the windows to be left open for ventilation.
Stove Flashing: Double metal flashing that allows the stovepipe to exit through the side cover. Made from galvanized sheet metal and coated for corrosion resistance and beauty. (Std. opening is 8″ – other sizes available)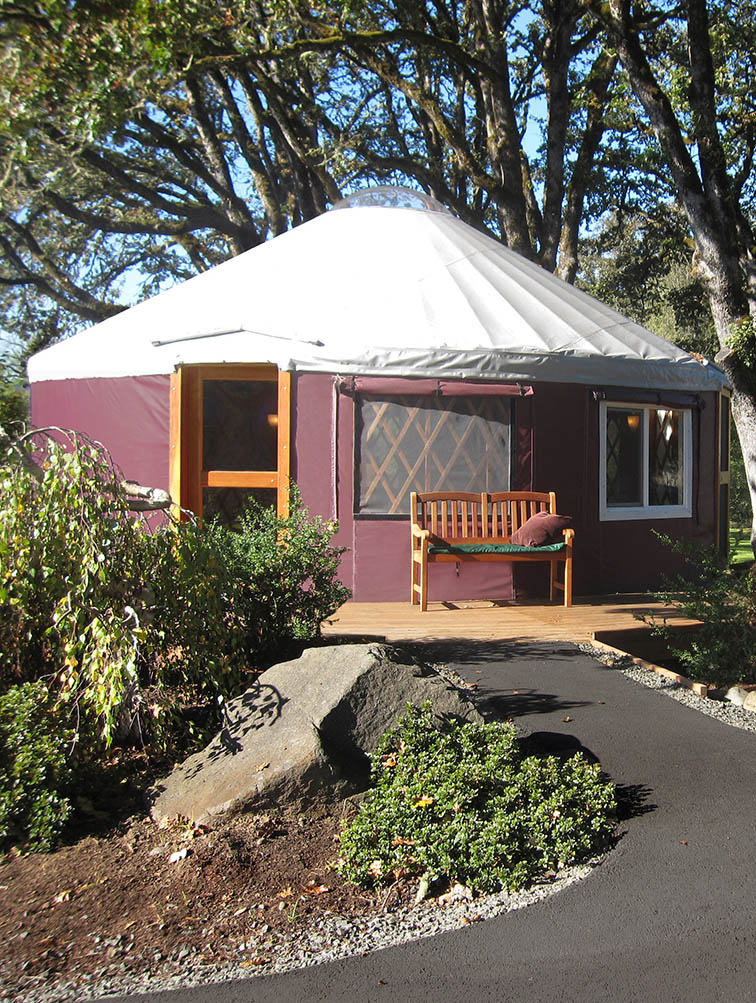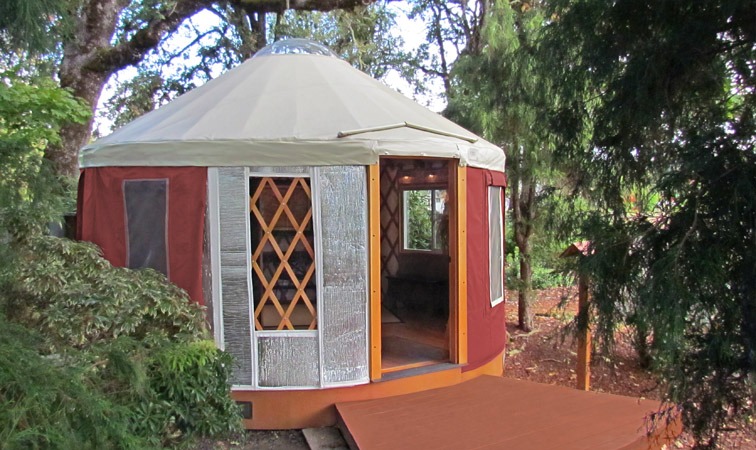 Insulation Options
Insulation Liners: If it's good enough for astronauts in space, you'd better believe it will help keep you comfortable here on Earth. Our seven-layer reflective insulation was developed by NASA. We cover it with an ivory colored fabric for an attractive interior finish. It works by reflecting radiant heat in both directions, keeping the yurt warmer in the winter and cooler in the summer. It is custom designed to match your window and door placement.
Insulated Window Covers: Made of reflective insulation with a fabric liner facing to match the interior insulation of your roof and sides. These will insulate your windows during the coldest times of the year and are easy to attach and remove. Consider insulating some windows while leaving others uncovered for light and view.
Door Options
Window Door: This beautiful solid wood door features a large window and inset wood panel.
Double Window Door: This door provides for more light and additional viewing space by replacing the inset wood panel with a second window.
Panel Door: It has all the strength and beauty of our window door, but features inset wood panels in the top and bottom instead. Because sometimes you'll want to keep others out and have the whole place to yourself.
French Doors: Handcrafted right here in our shop, our French Doors are truly elegant with inset with wood panels at the bottom and windows above. They architecturally enhance the yurt with a wider access and additional view. They're available for the 16′ yurt and larger models.
Fiberglass Door: This insulated architectural fiberglass door has a high quality ultra-durable finish, and is ideal for low-maintenance requirements in the harshest environments.
Screen Door: Beautiful solid wood screen door includes self-closing hinges and heavyweight screen. Provides extra ventilation while keeping the bugs out.
Upgrade Hardware for Screen Door: This option upgrades the standard spring-loaded steel hinges to bronze-finished solid brass hinges and handle. Also includes a pneumatic door closer.
Door Screen Curtain: This overlapping split screen attaches to the top of the door frame and is weighted at the bottom. Keep insects outside where they belong!
Additional Door: Add a back or side entrance for easy access to decks, hot tubs, gardens or additional views. Available on 16′ and larger. Ask about placement options.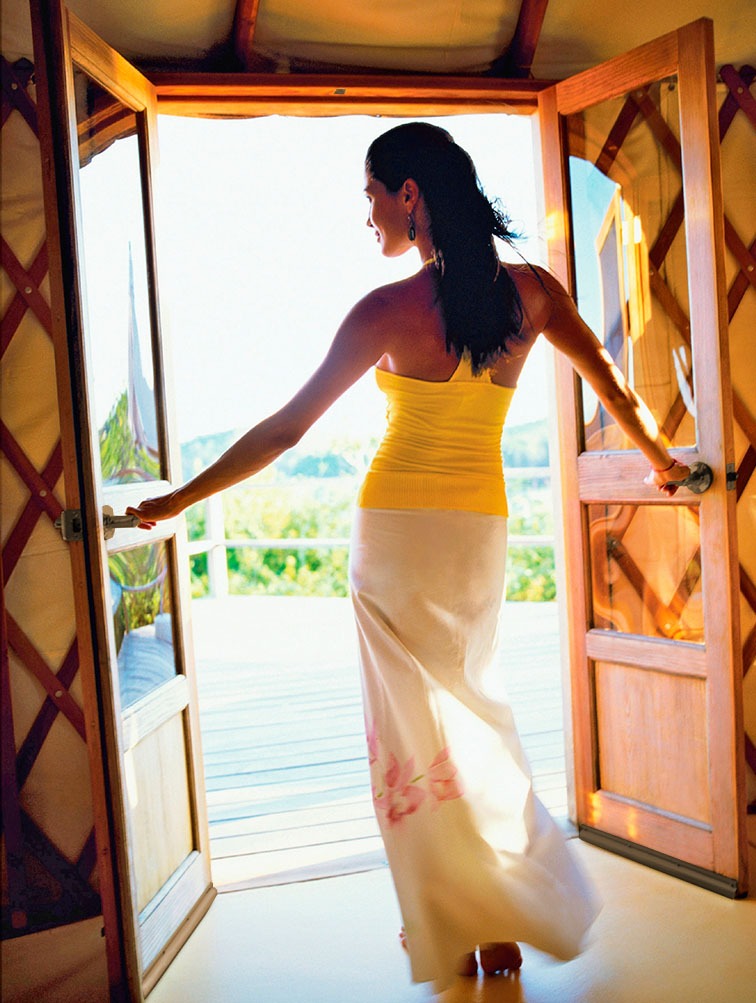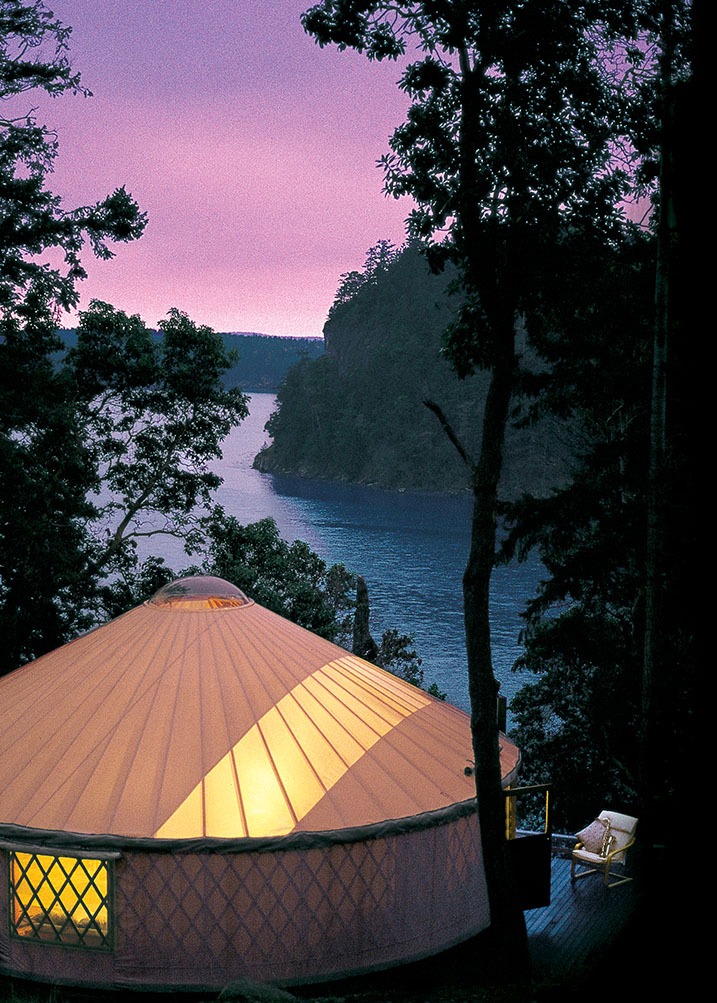 Roof Options
Premium Top Cover: Made of the highest quality roofing fabric available. It carries a 15-year material manufacturer's warranty. This is the same roofing material used on many new commercial buildings. Available in tan, white, gray or dark gray. Not for use with the solar arc.
Solar Arc: This durable, translucent vinyl roofing fabric allows diffused light to bathe the interior of your yurt. It takes advantage of natural lighting and is perfect for artists' studios and remote locations without electricity. Temporarily unavailable.
Door Awning: Versatile 5′ x 6′ roofing fabric welded over the door. Add your own wood or metal support and the awning becomes a covered porch for outdoor enjoyment and shelter from the weather. Also available in custom sizes.
Perimeter Gutter System: Collects water run-off from the roof and prevents it from running down the wall keeping the side cover cleaner and reducing maintenance. Similar function to water catchment but utilizes rigid PVC and can be retrofit. Not recommended for high snow areas.
Snow and Wind Options
The following Snow and Wind options have been designed to enhance structural capability while maintaining the top quality and aesthetics we are known for. If your yurt will need to meet a specific snow load requirement for your area it is best to find out what that snow load is prior to ordering. In most cases you can find out more about your local requirements here or here.
Snow and Wind Kit: Specifically engineered for heavy snow and high wind conditions. Consists of high quality, kiln-dried supports secured by our custom hardware and a cable blocking system to add rigidity to the roof. Stainless steel hardware upgrade also available for harsh marine environments.
Perimeter Blocking: These pre-finished 2×4's install between vertical supports to meet IBC standards. Includes screws. Available only with snow and wind kit.
Cable Tie-Down: Provides that additional level of protection in high winds by securing the center ring to the floor. Easily installed and removed as needed. Available only with Snow and Wind Kit.
2×6 Rafter/Ring/Hardware Upgrade: Upgrades the standard rafters, center ring and hardware for increased snow load capacity. Available on 20′, 24′, and 30′ yurts with Snow and Wind Kit.
Central Column: Powder coated steel column support increases snow load capacity. Ideal for larger yurts in high snow conditions, such as at ski resorts, or where engineered high snow load capacity is required. Available on 20′, 24′, and 30′ yurts with Snow and Wind Kit and 2×6 Rafter Upgrade.
"Pacific Yurts work great for us here at Sundance. We have recently had two winters of the heaviest snow and wind I can remember and the yurts' performance was bullet proof. Our guests are blown away by the aesthetics and comfort of our yurts."
–
Sam P.,
Sundance Resort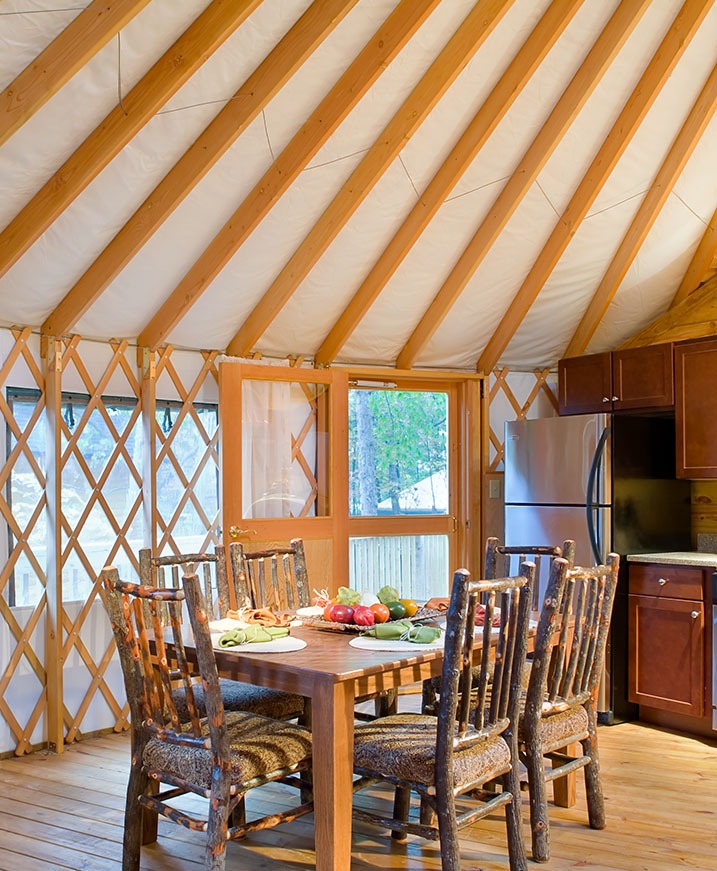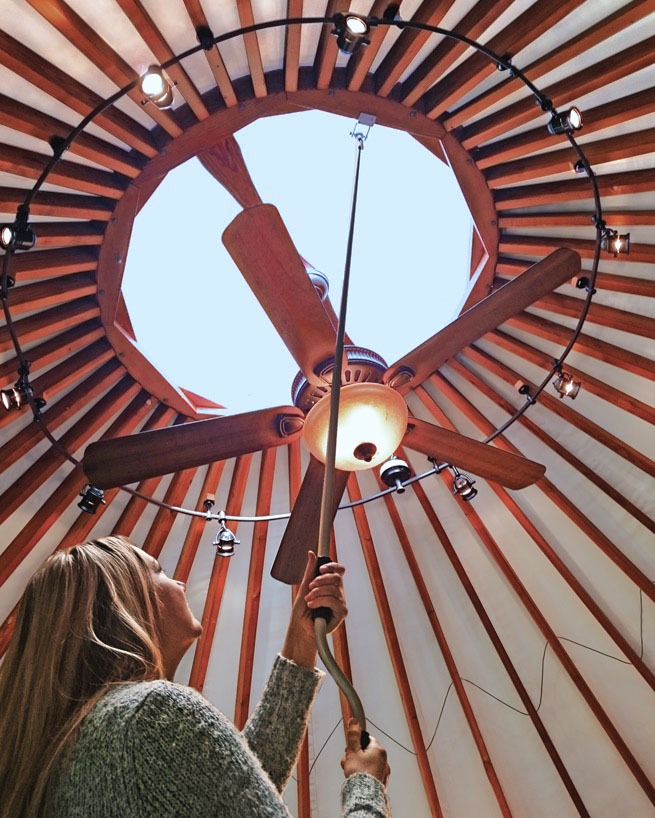 Dome and Center Ring Options
Dome Opener: Specialized hardware, mechanism and extension handle allows the dome to be opened. Opening the dome skylight allows the escape of hot air that may get trapped at the ceiling. Creates a natural convection cooling system for refreshing comfort. For further air movement add a ceiling fan using our fan support.
Power Dome Opener: Our power dome opener option with key chain remote makes it easy to open or close the dome with the touch of a button.
Tinted Dome: Highly recommended for those who live in the tropics or have a site in a hot location with direct sun. The tinted dome blocks approximately 60% of the heat that comes through the skylight and only marginally affects the natural light.
Center Ring Insert: Our finely crafted wood frame fits into the center ring and comes with your choice of optional bug screen or shade screen. The bug screen provides a barrier against insects, and the shade screen reduces heat gain while stopping bugs. Designed for easy removal.
Dome Screen: Elegantly simple circular hemmed screen attaches to underside of the center ring. Choose bug or shade screen.
Fan Support: This beautiful sculpted wood support allows you to install a ceiling fan in the center of your yurt to keep things cool. Additionally, most fans can be reversed to aid heat circulation during the cold months.