Why Pacific Yurts?
All yurts are not created equal...
As the original and world's leading manufacturer of modern yurts we are proud to be known as the company that is devoted to quality, performance and creating satisfied customers. Beyond competitive pricing and outstanding service, they tell us we offer a benefit of even greater value, the confidence that comes when you know you have invested wisely.
At Pacific Yurts, we don't cut corners. Committed to the finest craftsmanship, we use only the highest quality materials in our award winning yurts and engineer them for strength, durability, and long-term value. Nothing compares to the Pacific Yurt.
"Pacific Yurts has maintained its status as the world's leading yurt manufacturing company by continuously implementing technical and structural advancements, adding innovative options and remaining committed to unrivaled customer service."

– Woodall's Campground Management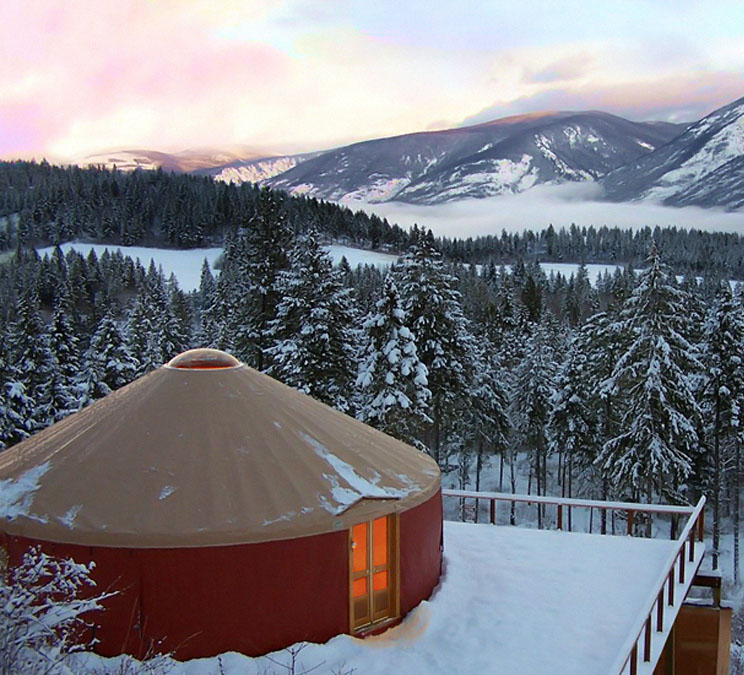 Setting the highest standard
Of course, it takes more than longevity to make a great company, but in the yurt industry, where companies regularly come and go, extensive experience with the product means a lot. Established in 1978, Pacific Yurts' rich history leaves our customers confident that, first, we know how to build the highest quality yurt, and second, we are in this for the long haul. In other words, if you need us in the future, you can count on us being there.
Pacific Yurts' long-term success as the leading manufacturer in the industry is owed in part to our ability to continue to innovate, to improve our product and add to the array of available options. For all our expertise, perhaps our greatest skill is the ability to listen to our customers and to continually enhance our yurts in response to their needs.
Over the years Pacific Yurts has been responsible for the most important innovations in the yurt industry. Just a few of these include reflective insulation, professionally engineered structural upgrades for snow and wind loads and curved-frame, energy efficient glass windows. Learn more about our innovation history on our Company Timeline, and see many more of our custom features on our YurtBuilder3D™.
"This is my second yurt purchase. I love all the new innovations over the past ten years! Thank you."
Quality is non-negotiable
Quality construction translates to greater long-term value and savings. Purchases based solely on price can lead to frustration, increased maintenance cost and reduced revenues in commercial applications. Individuals, ski resort operators, campground managers and thousands of others worldwide have chosen Pacific Yurts not just for their comfort, charm and aesthetics but because like our company, they are built to last. An unshakeable commitment to quality every step of the way is the cornerstone of our core values.
Pacific Yurts' location in the heart of Pacific Northwest timber country affords us many advantages. For example, we are able to hand select the finest kiln-dried Douglas fir from sustainably managed forests to make the strongest wood frame in the industry. We never substitute with lesser grades or species of lumber. Made exclusively for Pacific Yurts, our custom Snow and Wind hardware is designed for long-lasting beauty and strength. Finished with an attractive, durable coating, it blends naturally with the warm color of our fine wood components. Exterior bolts and screws are always stainless steel, and our lockset is warranted for life.
Pacific Yurts uses only architectural fabrics which provide the ideal combination of strength, durability and overall performance in all weather conditions. These materials have proven far superior to cotton or cotton blended fabrics, which are susceptible to mildew and mold. Our yurt design has been honored by the Industrial Fabrics Association with an International Achievement Award for Excellence. All of our fabrics are certified flame resistant and available in a wide range of colors.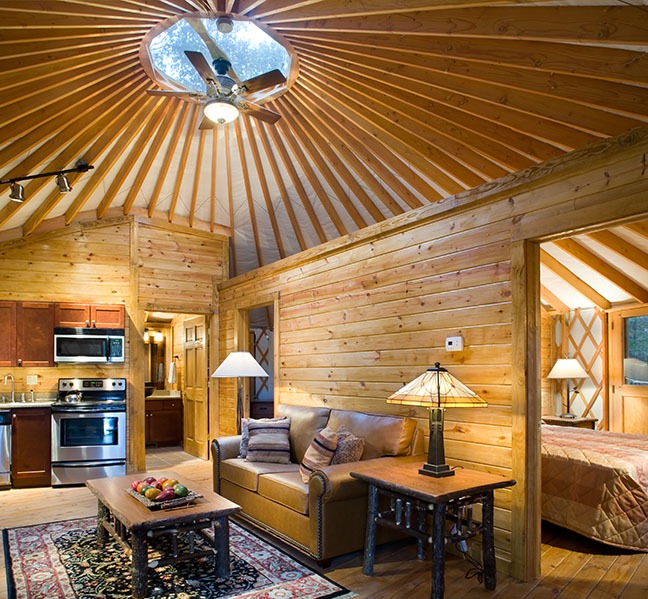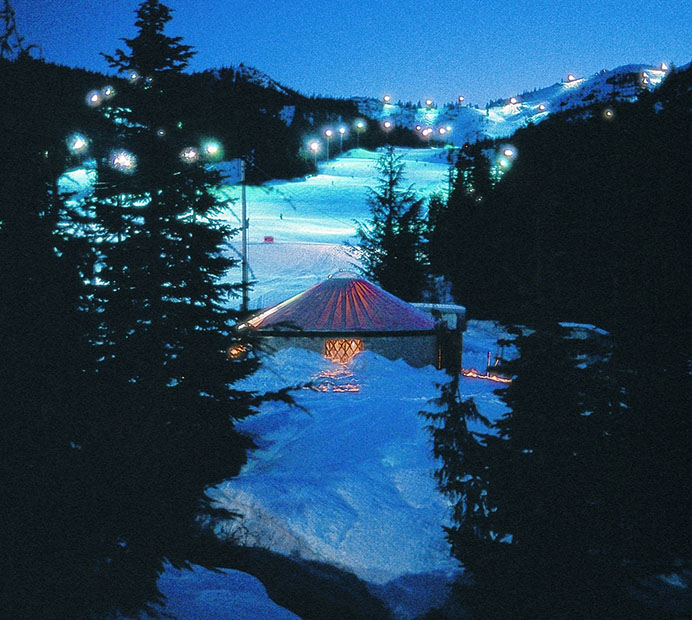 Time-tested performance
With thousands of our yurts in use all over the world, no other company comes close to matching the product knowledge and expertise of Pacific Yurts.
While others may make lofty claims about the strength of their product, you'll find no other yurt measures up to the elements like a Pacific Yurt, engineered to be the strongest in the industry. As a complete assembly (the only accurate way to test strength), our yurt is professionally engineered to meet strict Uniform Building Code and International Building Code structural standards. We invented and engineered the snow and wind support kits and upgrades to ensure our yurt was truly designed for all-season use.
All of Pacific Yurts' engineering includes combined and uneven loading to assure user safety. We include safety allowances and engineer to worst-case loads instead of "perfect conditions." Engineering to perfect conditions does not reflect real life; still, it's a lower standard some manufacturers use in order to inflate their numbers.
"I was most impressed with the strength and snow load capacity of the yurt which, along with its spacious and aesthetically pleasing interior, provided ample warmth, comfort and all-around enjoyment to our back country ski experience."
Customer service is not a task, it's a passion
As proud as we are of the quality of our yurts, we believe we may do our best work after our customers have honored us with their purchase.
Frankly, we're passionate about everything we do, but never more so than when we are working to make sure our customers are taken care of. We know we can save our customers time, money and frustration by providing outstanding service – not only during the initial sale, but also for many years to come. The dedication of our customer service staff has resulted in satisfied customers worldwide. We are happy to share our references with you. While we've received numerous product awards, none are as rewarding as the many letters of appreciation from our customers. We are honored that author Becky Kemery praised "the legendary customer service of Pacific Yurts" in her book "Yurts – Living in the Round."
"I am amazed at the quality of the product you produce and the efforts you go to satisfy your customers. This has not changed in the 9 years I've been privileged to work with you, it's a wonderful thing to encounter in this day and age."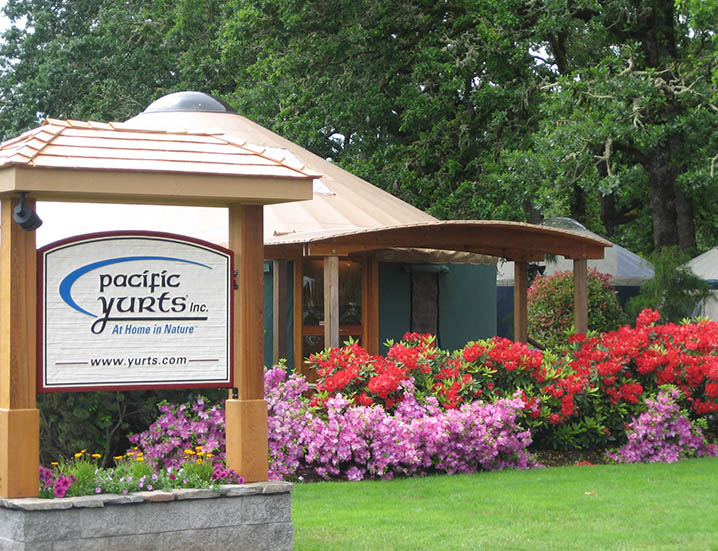 Check the warranty - better yet, check the company
Promises and guarantees are only as good as the company that backs them up. Some companies selling yurts have not even been around as long as the warranties they offer. When you become a Pacific Yurts customer, you'll not only be enjoying the finest yurt made, you can also be assured that your needs will be met long after the warranty period has expired. At Pacific Yurts, we believe that's not just good business; it's also the right thing to do.
We take your plans and schedule seriously and our office staff is committed to making sure your order receives complete attention from the initial order through completion. They coordinate with our production and shipping staff to assure that your yurt is completed on time and shipped on schedule. We back our products with extensive warranties, and better yet, we back them with our company's unmatched reputation of quality and service.
After all, that's what really counts.
"We purchased our Pacific Yurt over 18 years ago and it's still in good condition. We love it."