When days become shorter and temperatures drop, skiers and snowboarders everywhere start praying for snow. A Colorado ski vacation may be the antidote. The Centennial State sees more than 300 inches of snow a year and 300 days of sunshine. Nearly 30 resorts and ski mountains call Colorado home. Powder hounds of all levels can find somewhere to earn their turns.
After a long day of shredding, relaxing in a serene and cozy yurt may be the ultimate way to unwind. Yurt vacations are a novel change of pace compared to hotel rooms, bringing the snow you crave just outside your back door. You can recharge for another adventure without stressing over difficult parking, loud neighbors or reality television.
Yurts help you warm up when temperatures dip to freezing or below. Even without solid walls, yurt heating is more energy efficient than you may realize. Pacific Yurts offer many custom features for cold weather comfort, which include reflective insulation that was developed by NASA, support mount for a ceiling fan to circulate heat and capacities for heating systems including radiant heating, electric heaters and wood stoves. Safety is always our priority as well. We design our yurts to withstand heavy snow loads.
Are you searching for your powder fix and yurt winter camping? We've tracked down some of our favorite Colorado yurt rentals within driving distance of key ski resorts.
State Bridge
For those who want to arrive to the mountain in time for first chair, staying in a central location is key. With views of the scenic Colorado River, State Bridge yurts offer a convenient settling place with a wealth of outdoor activities.
The destination just a 40-minute drive from Vail and an hour from Steamboat Springs. Experts will love Vail Ski Resort's advanced groomers and off-piste terrain and tree-skiing at Steamboat. If you're new to the sport, Steamboat also offers ample green trails for beginners.
Leadville Backcountry
At 10,152 feet, the city of Leadville is the highest city in the country. Athletes in the area take their workouts to similar extremes, participating in competitions including 100-mile competitions in running, mountain biking and skiing.
Leadville Backcountry yurts help you wind down in solitude at the end of the day. With just two simply furnished yurts, it virtually guarantees a peaceful experience. Rustic amenities include a propane cooking stove and wood fireplace.
Backcountry skiing is wildly popular, especially at nearby Climax Ski Resort where the mountain is just a short trip from the road. Skiers of all abilities can hit Copper Mountain just a half hour away. The massive ski resort divides its mountain into beginner, intermediate and expert terrain sections. Arapahoe Basin and Keystone Resort are only an hour away, as well. If you want to trek two hours, there's also Aspen Snowmass.
Lawson Adventure Park
People know Clear Creek County for its rich history in mining and railroads. Miners hit their first gold strike where Chicago and Clear creeks met in Idaho Springs. Fewer than 10 minutes away is the unassuming community of Lawson, home to the Lawson Adventure Park yurts.
Deep in the Colorado Rockies, the park offers a chance for an authentic and accessible Colorado yurt vacation without an intense drive. The yurts are slightly off the highway, surrounded by evergreen trees and feature a bathhouse and other facilities nearby.
Breckenridge Ski Resort is about an hour away. With 23 lifts and a vertical of more than 3,000 feet, the mountain is one of the largest in the United States.
Wolf Creek Backcountry
Skiers and snowboarders can get amped riding a three-mile groomed run to stay in the Wolf Creek Backcountry yurt. Located near hot springs capital Pagosa Springs, the yurt features solar lights, cushy beds, a kitchen and wood stove along the Continental Divide. The hills beside the structure are perfect for sledding, and you can snowshoe for miles down historic logging roads.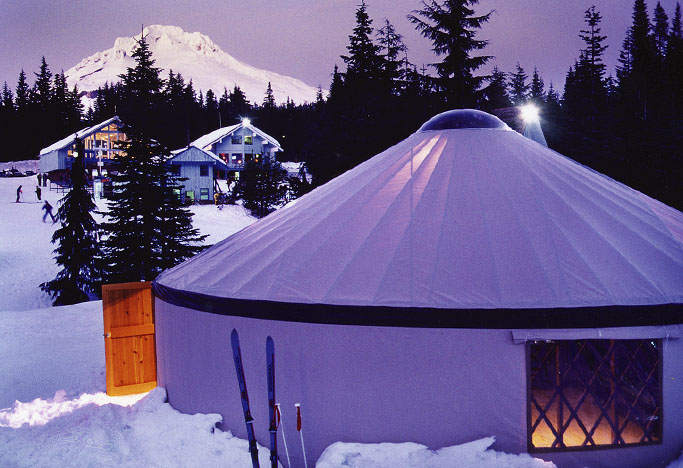 Of course, you can ski around the property, or travel to the nearby family-friendly slope Wolf Creek Ski Area. At $72 for a full-day adult lift ticket, ski passes there are relatively more affordable than bigger Colorado resorts.
No matter where you adventure for your Colorado ski vacation, there are excellent Pacific Yurt rentals to choose from across the state. Try our handy yurt vacations tool to locate one in your area.