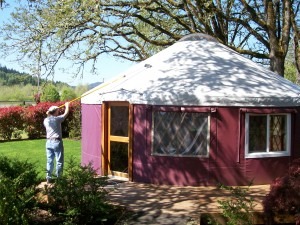 Spring is here and the landscape is coming alive with color. This is the ideal time for yurt owners to do a little maintenance. Keeping your yurt clean and well maintained will not only keep it looking good, but also provide increased longevity. Below are a few tips for keeping your beautiful Pacific Yurt looking good and lasting longer.
An accumulation of dirt or soiling can create an ideal environment for bacteria to grow and cause staining of the fabric. It is important that this be removed regularly to maintain the appearance and longevity of the fabric. Both top and side covers should be cleaned at least twice a year with a mild soap and warm water. We have found this to be the least aggressive to the fabric. In areas where tree sap and leaves are a problem, it may be necessary to clean the yurt more often. Recommendations for cleaning include hand scrubbing with a soft bristle brush using a ladder around the lower perimeter areas and using the dome opening for access to the top areas. A swimming pool brush with an extension handle would be a good investment for this purpose. Be sure to protect the top cover with a blanket or cardboard before attaching a rope or strong cord to the dome and sliding it down off the roof to someone at the perimeter who can 'catch' it and carefully set it to the side.  If mildew is ever found growing on the cover, it should be removed with soap and water. In the event the top or side cover ever becomes torn or punctured, it can be repaired with a patch kit available from Pacific Yurts.
If the side cover has any horizontal wrinkles, it can be smoothed out by simply tightening the cord that connects the top and side covers.  If the side cover has any vertical wrinkles this means that it should be pulled tighter around the circumference of the yurt. To do this the screws at the bottom of the side cover should be removed and any excess fabric pulled toward the door, where it can be moved around the door sticker and re-secured. The screws at the bottom of the side cover can then be re-installed. Having a nice tight side cover will improve aesthetics, reduce wind noise and provide a better seal against air infiltration.
Check to make sure the top cover valance cord is pulled tight and secured to the door frame.
The door handle should be lubricated regularly with graphite or Teflon based lubricant.
The exterior of the door & door frame should be re-coated with a cedar semi-transparent stain (or equivalent) every year. If done regularly this requires minimal effort and keeps the beautiful appearance of the wood door. Applying a few coats of Tung oil over the door's finish is inexpensive and helps to protect the coating.
If the fabric of your top or side cover has become stiff, brittle or tears easily the cover is likely at or near the end of its usable life. Replacement covers are available from Pacific Yurts. Pricing information can be found on our website. You can contact our customer service representatives by email or by calling 1-800-944-0240.
Consistent yurt care ensures that your circular abode looks fantastic. Maintenance also extends the lifespan of a yurt's exterior, so investing your time in upkeep will pay off. In general, yurts are low-maintenance living quarters. They require far less preservation elbow grease than traditional brick-and-mortar homes. Still, some upkeep is necessary to keep your yurt looking as amazing as it did when first assembled.
If you utilize your yurt year-round, take advantage of the warm weather to preserve your abode. Alternatively, if you only use your yurt seasonally, plan a warm-weather visit to focus on maintenance. This spring, give your circular abode some TLC with the following yurt maintenance tasks.
Click here to download the Yurt Spring Maintenance Checklist