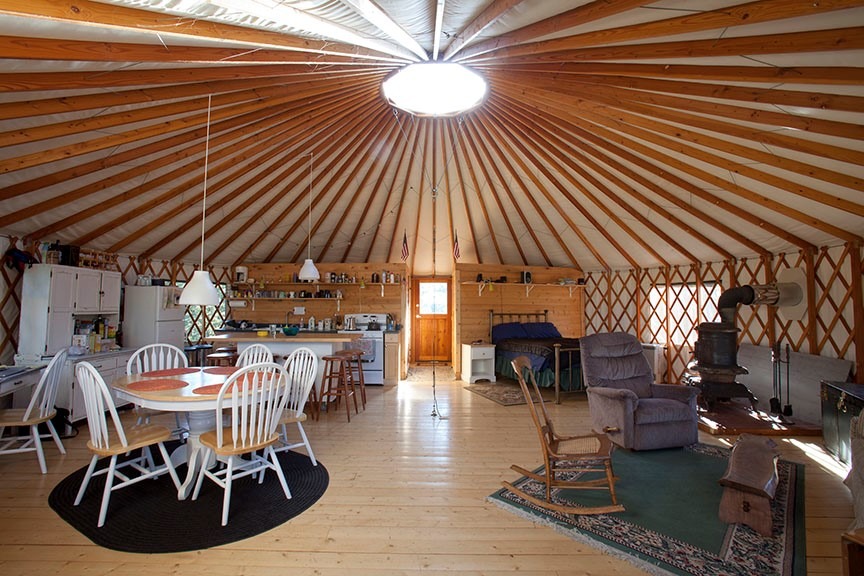 Yurt interiors offer a myriad of opportunities for creativity and personality to emerge in the design of the space. Often, yurt lovers enjoy the process of choosing yurt décor that not only complements their style, but also meets the challenge of saving space in a yurt. Many have found inspiration for yurt organization from ideas for tiny houses, airstream trailers, small loft apartments and RVs. Our experts gathered some of the top space saving ideas to share with you.
1) Get Creative with Storage
Finding places to store household items in your yurt is the first opportunity to get creative with yurt décor. Items like books, knick-knacks, piles of papers, shoes, and dishes can quickly become a problem without some creative storage solutions. One idea is to add floor-to-ceiling bookshelves along part of your yurt wall. These work both as storage and as a design structure that draws the eye upward to create a sense of more space. Shelves can also be added on interior partition walls should you choose to add a loft structure in your yurt. Another popular option is to make use of ottomans and tufted furniture boxes that double as seating and storage. For those handy with woodworking, a pantry wall can be built that allows smaller appliances and other kitchen items.
2) Pair Decorating with Practicality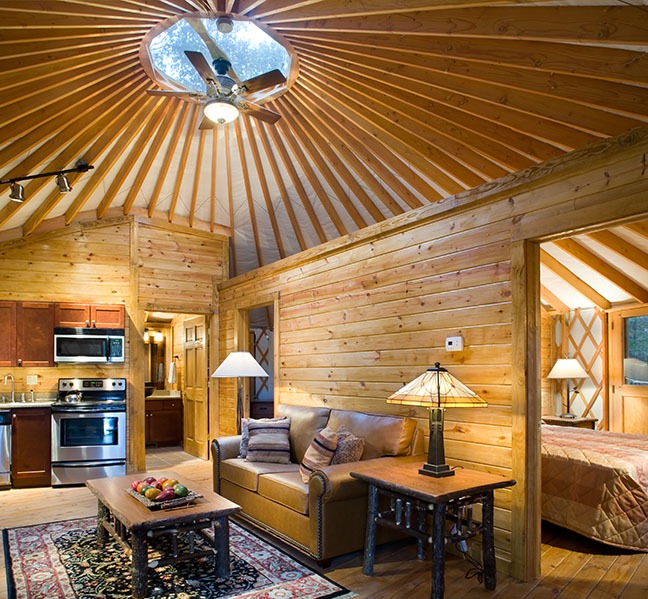 Many of our creative customers design beautiful solutions to display day-to-day items in ways that allow them to be both part of the yurt décor as well as practical tools. One of these solutions involves hanging pots and pans from the ceiling or along the wall using matching hooks or vintage knobs. Another practical decorating solution is to use creative room dividers or curtains instead of walls. A room divider mounted on wheels can display art or hold a folded up table, while also being a movable structure to be rolled to any part of the yurt as needed. Curtains, of course, can be pulled across or pulled back to suit the use of the space on different occasions.
3) Embrace the Outdoors
Yurt living pairs beautifully with outdoor living. In temperate climates, many families will serve, and sometimes cook, their meals outside. Outdoor dining spaces and outdoor kitchens are superb solutions for saving space within the yurt. Yurt lovers are also inclined to enjoy outdoor showers. Many find them invigorating! And, lounging areas are popular additions to the outdoor spaces around a yurt. Fire pits and porch swings are always a nice addition as well.
4) Store your Table
This ingenious space-saving solution can be employed in several different ways. Some yurt owners will mount hooks on the walls.  Using folding tables and chairs for their dining area allows them to be folded and stored on the wall when not in use. As mentioned above, others have taken it a step further by creating a movable wall on rollers where one side of the wall holds a customized table that can be folded out for meals.
5) Add Bedroom Lofts
An extremely clever way of saving space in yurt interiors involves lofting a bedroom. It is common for yurt owners to build a freestanding structure for this purpose. Underneath the loft area, many will create their kitchen space, build a bathroom, or add closet and shelf space. This then allows them to make use of the load-bearing walls on which the loft is mounted. For lofts that use stairs, the space under the stairs can be utilized for shelving and more.
6) Shrink your Bathroom
Yurt interiors will sometimes include a bathroom. Bathrooms can borrow many ingenious ideas from other tiny dwellings. For example, tiny houses and many apartments will often use bathroom fixtures that are a fraction of the size of regular fixtures. Bathtubs can be customized for small spaces, as can vanities and sinks. By using smaller pieces in the bathroom, a great deal of the yurt's interior can be freed up for the common areas.
7) Frame your Door with Shelves
This final idea is often overlooked, but as a space-saving solution, it is perfect for owners of any compact dwelling, including yurts and tiny houses. As is often the case in a yurt, space saving solutions can be right in front of your nose. This idea involves using the space surrounding any door for small shelves. In a yurt, you can surround the front door with shelves for knick-knacks, books, keys, vases, potted plants, or even small lamps. If the yurt includes our Snow and Wind Kit, shelving can be mounted between the rafter supports. You will be surprised at how much storage this space provides!
Do you have a unique space-saving idea that you are using in your yurt organization plan? We would love to hear from you! Follow us on Facebook and share your great space-saving ideas and photos with us and our amazing community.