Pacific Yurts, designer of the original modern yurt, was founded in 1978 in an old dairy barn. Forty years later, we now have thousands of yurts all over the world. Take a look at our company's journey throughout the years, and let's celebrate!
The Pacific Yurts Prequel
As a child, Pacific Yurts founder Alan Bair had a fascination for designing and building. Little did he know, this passion would one day land him on the pages of TIME Magazine. Today he runs a company known as the leading manufacturer of this modern recreational structure.
Many years ago, Bair came across a National Geographic article about circular shelters that had been used by nomadic herdsmen for thousands of years. He was inspired by their intrinsic beauty as well as the practical engineering of the structure, which has one of the most efficient surface-to-volume ratios ever created. After reading the article, he knew he wanted one of his own.
With help from some friends, he decided to build a yurt for himself using marine-grade fabric and milled lumber. Bair lived in this yurt while working on Oregon reforestation projects in the mid-1970s. When a local news article featured the yurt, calls and letters began to trickle in from people asking for help building their own. Suddenly, he found himself in a niche market for simple, affordable structures.
How It All Began
In 1978, the year our company launched, Oregonians were primarily the first customers with only a few yurts shipped to other states. Early customers were attracted to the yurt's comfort, affordability, and ease of installation. During that time, Bair and his team were working hard to develop the basic design and production process. "It was amazing to me what fertile ground Oregon was for our young enterprise and the outdoor lifestyle it represented," Bair notes.
Two years after Pacific Yurts was founded, the company moved from the old dairy barn to its current location in Cottage Grove, Oregon.
In 1980, the company received an Industrial Fabrics Association International
Achievement Award for new products. Many other awards followed including the Small Business Administration Exporter of the Year (Oregon and Region 10) and the US Senate Productivity Award in manufacturing for Oregon.
In 1988, we began utilizing NASA-developed reflective insulation in our yurts, making them warmer and more versatile for different climates. A year later, Pacific Yurts introduced the Snow and Wind Kit and Central Column upgrades, which provided for professionally-engineered snow and wind load ratings to current structural codes.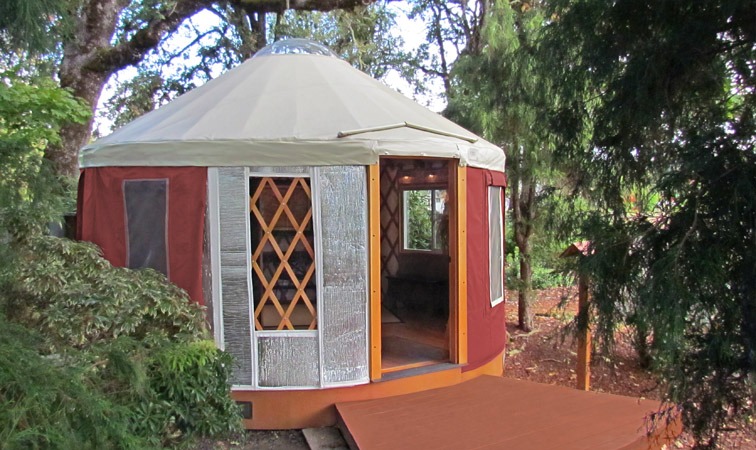 In the early 90s, we had our first facility expansion, complete with a new office and modern yurt production facility. Around this time, Oregon State Parks began installing Pacific Yurts rental units along the Oregon coast. These Northwest yurt rentals went on to become a national phenomenon as the idea caught on and yurts started to be installed in state parks across the country.
In 1997, we produced the first yurts that included our Alpine Package, which is designed with laminated beam rafters and powder coated steel reinforcements for extreme snow loading.
In the early 2000s, our second facility expansion included a shipping building and extra office space. In 2006, we expanded yet again with the addition of the Pacific Yurts Fabric Division. With new options, more innovations, and increasing public awareness, the uses for yurts grew to include retreats, vacation homes, alternative housing, and resort lodging or Airbnb's.
A few years later, we introduced the Custom Curve glass window system, which gave Pacific Yurts customers the option of adding thermal glass windows virtually anywhere on their yurt or install them where there were existing fabric windows. In 2015, we launched an all-new website which included the Yurt Builder 3D, an online design and pricing tool that allows people to easily create and price out a custom yurt and get a 3D rendering of their dream design.
To many customers the appeal of a modern yurt is much more than the structural and practical benefits, the yurt is a work of art that represents a simpler way of life.
Pacific Yurts Today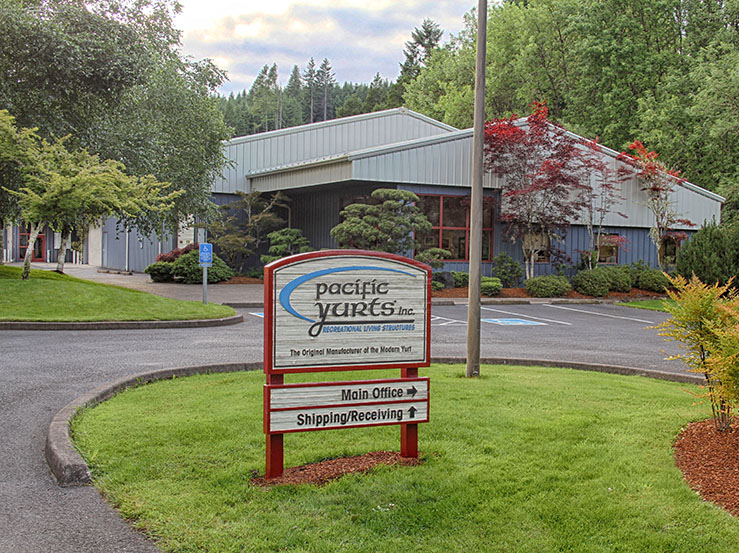 In the beginning, very few people had heard of a yurt. Years later, when we registered our domain yurts.com, there were still no other references to yurts on the Internet. Now there are millions of references on search engines, yurt forums and a whole yurt industry.
Today, the company, located in Cottage Grove, Oregon, has a global reach. Pacific Yurts can be found throughout the United States and on nearly every continent. They have become a solution for those who want to provide access and accommodations in natural scenic areas while having a minimal impact on the environment.
As the original manufacturer of the modern yurt, we now produce hundreds of custom yurts each year, while improving upon the quality and customer service that has kept us at the top of the industry. Pacific Yurts' success and reputation for sustainable business practices and innovative management has attracted national and international recognition.
Pacific Yurts have been featured in TIME, Fortune, Popular Science, The Wall Street Journal, House Beautiful, and many other publications. Bair has been a featured speaker on topics including international business and entrepreneurship at home and abroad. His article Connecting Ancient Wisdom with Modern Technology was published in The Ecolodge Sourcebook for Planners and Developers.
We are thrilled to celebrate our 40th anniversary this year, and look forward to many more years to come. Thank you to our loyal customers for helping us achieve this unforgettable milestone.