Pacific Yurts was founded with the goal of allowing people to get closer to nature while minimizing their impact on it. Yurts are inherently eco-friendly structures; their lightweight, circular design maximizes interior square footage while curtailing required construction materials. Moreover, yurts often require just a simple post and beam platform as a base. As such, the entire structure may be removed with very little impact on the surrounding environment.
Beyond manufacturing an intrinsically earth-friendly dwelling, we prioritize environmentally responsible business practices. Here are a few of the ways that our choices set us apart as earth-friendly yurt builders:
Sustainable Lumber
Our yurts incorporate lumber from sustainably managed forests.
No Spray; Hand Finishing
Atomized (spray) finish causes air pollution. We avoid this by hand finishing all wood framework.
Green Energy Choices
At least 25% of our manufacturing energy comes from renewable wind power. Natural and energy efficient lighting illuminates our shop, minimizing energy use.
Recycling
Our small wood trim pieces and sawdust are recycled to local crafters and gardeners. We recycle paper and cardboard across our facilities. Fabric remnants from our side covers are recycled into shopping/duffle bags and more. We empower customers to participate in "cradle to cradle" recycling by returning used side and top covers to the manufacturer, where they are repurposed into new products, such as gym mats.
Waste Reduction
Our second growth lumber is handpicked at the mill. By carefully choosing boards of the appropriate length and grade for each yurt component, we minimize production waste.
Naturescaping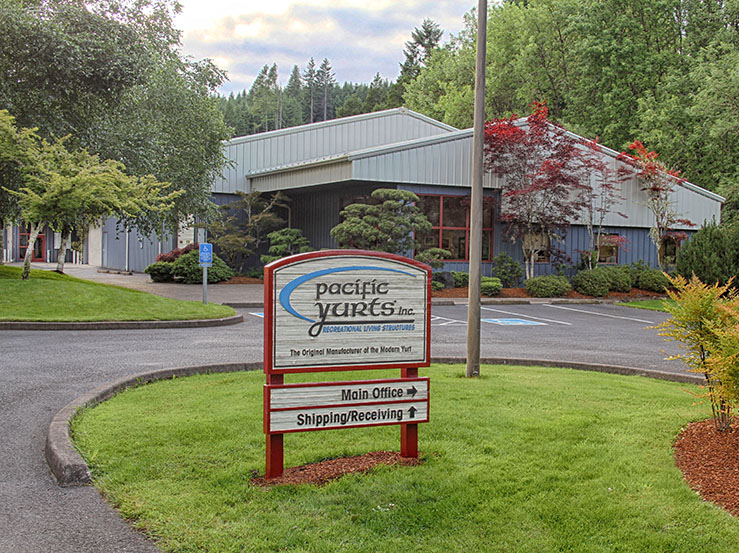 On our property, we have conserved a grove of 100-year-old oak trees. We have also installed bird boxes and eco-friendly landscaping.
Additionally, we are always looking for earth-friendly features to incorporate in our products. If you'd like to join us seeking earth-friendly approaches, we invite you to add green features to your yurt, such as:
Water-Catchment
Conserve water with this yurt roof option. A fabric gutter will collect run-off and divert it to your storage tank or cistern. (Storage tank not included.) Use the resulting non-potable water for landscape irrigation and more.
Solar Arc. Many of our customers choose to wire their yurts. Minimize the amount of energy you require for daytime lighting by adding a solar arc. This translucent roofing fabric allows sunlight to illuminate the yurt interior.
Energy Efficient Insulation. Our seven-layer reflective insulation liner was good enough for NASA, so you can bet it will help keep your yurt interior cozy in hot and cold weather alike. Minimize your energy usage for heating and cooling by adding this insulation. We also offer insulated window covers for non-glass windows. For added efficiency, select our insulated fiberglass door complete with a thermal pane window for your yurt.
Glass Windows. No other yurt companies sell glass window systems quite like ours. Our Custom Curve™ windows may be opened or closed from the yurt interior. Their efficient, low-E thermal glass is framed with a fabric flange for a tight seal against energy leaks. And you'll love the aesthetics—the structural framework for these windows is curved, so you avoid the awkward flat panel look of other yurt manufacturers.
Alternate Energy Sources. Solar and wind power may also be used to power your yurt; partner with a local contractor to erect these "off the grid" options.
The yurt symbolizes simplicity and conservation. Ancient Mongolian yurts could be moved from place to place with almost no impact on the land. Today, we are proud to be continuing this tradition of constructing softly upon the earth. Looking forward, we will continue to prioritize green operations and environmentally friendly yurt features.