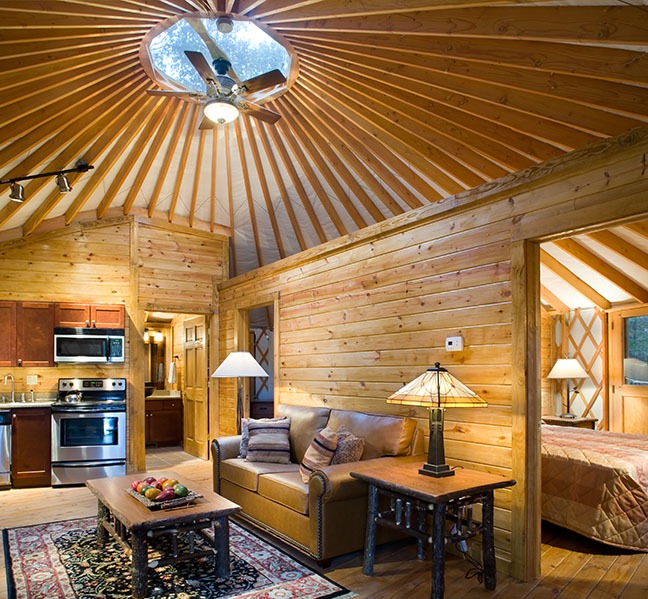 Light in our living spaces can create a sense of openness and energy. This is especially true in yurts. Lighting can enhance daily routines and infuse moments with friends and loved ones with feelings of peace and serenity. The natural daytime lighting from the skylight in a yurt serves to illuminate and supplement the airy feel of the interior. In the evening, yurt lovers can enjoy the feel of cozy mood lighting from woodstoves and their preferred lighting solutions.
In yurt décor, light plays a significant role. Here are some ideas for making the most of this aspect of yurt living.
Natural Light
Natural lighting is an amazing feature in most modern yurts, and certainly any Pacific Yurt. First and foremost, the star of the show is the overhead dome skylight. This feature cannot be touted enough, as it is often one of the biggest reasons yurt living feels superior to traditional home living in the minds of many of our customers. The circular nature of the space is made even more impactful by the overhead natural lighting. Additionally, each of our yurts can be customized in ways that best suit your lighting wants and needs. For example, our Custom Curve ™ Glass Window System is truly unique in the industry, and many of our door options invite large amounts of daytime natural lighting.
Night Lights
At night, light becomes a necessity more than a luxury. Additional yurt lighting options will require some kind of power source, whether from a utility hookup, a solar or wind energy option, or even an old-fashioned flame. Conventional utility-based power and solar or wind options are always considerations.
Access to other power sources is usually routed through the floor of a yurt. Outlets can be placed on perimeter posts around the yurt or simply flush to the floor. In yurts with partition walls, wiring can be done within the walls, just as it would be in any site built home. We provide additional information about powering your yurt on our website. With these additional power sources, yurt lighting options are endless!
Creative Lighting
Yurt owners will often opt for strings of lights for both utility and cozy ambiance. LED-string lights are easily installed on the rafters, center ring, and around the perimeter of the roof or floor. These can add a charming aspect to yurt décor. LED or battery-powered lanterns also create a cozy feeling, and lanterns can be purchased in almost any form or made from any number of materials.
Traditional lamps are always an option, but pendant lamps are especially beneficial in yurt spaces because they provide light without taking up floor space. Pendant lights can be mounted from the rafters or loft spaces and they come in a wide variety of design options, from high-end art pieces to homemade Pinterest projects. Also, out-of-the-way fixtures, such as upward or downward facing lights along shelves or counter spaces, are great options for creating ambience.
Outside Lighting
Solar-powered LED lighting boxes and flood lights are growing in popularity, and they make excellent lighting solutions for the outdoor living spaces around a yurt. Festoon lights on strings can be mounted on stakes or cane-shaped crooks to enclose an outdoor area or stand on either side of a path leading up to the front door. Small hanging lanterns are also an option for outside lighting. Stringed lights of almost any kind can add a festive or twinkly feel to your setting.
Lighting ideas for yurts are numerous and we encourage you to search your favorite sites for inspiration. As always, we hope the plentiful resources on our site can help you with your yurt planning and decorating.