What do you do? Do you have pets or children? What are your hobbies? These are a few "get-to know-you" questions that we all rely on when meeting new people. When preparing to buy a yurt, people use different questions to gain familiarity. Some customers wonder about heating and plumbing options, while others wonder about apertures, fabrics and energy efficiency.
In this post, we touch on a few more questions that may be running through your mind regarding yurts. For the full list, visit our helpful FAQ section. Read on to learn some common yurt questions and answers, and be sure to download our checklist below with the top ten most common yurt questions.
Common Questions and Answers about Yurts
Q: How much does a yurt cost to build?
The price for your yurt will vary widely based on the size of yurt and features you select. Find pricing details on our main website under Standard & Custom Features, or use our Yurt Builder 3D™ to get a customized cost calculation for the yurt itself. You would then need to add for the cost of building the platform (floor structure) and decide on the amenities and furnishings you want inside the yurt. A local contractor can add any necessary partition walls, plumbing or electrical.
Q: If I don't want to assemble the yurt myself, can I hire a contractor to do it for me?
Yes, many of our customers who do not want to build a platform or assemble the yurt themselves have hired local contractors to do it for them.
Q: Is mold growth a concern with yurts?
You shouldn't have mold problems with Pacific Yurts, assuming you have proper ventilation and air circulation. However, you will need to wash the exterior regularly to remove dirt and debris. Find more information on yurt upkeep on our yurt maintenance page.
Q: Are yurts approved for full-time residency?
A: It depends on your state. Typically, it is necessary to acquire a special permit to live in a yurt year-round. That permit is not as easy to get as part-time residency. Moreover, your local codes about energy efficiency may require specific R-values (conductive heat transfer) Our sales reps would be happy to discuss this complex issue with you.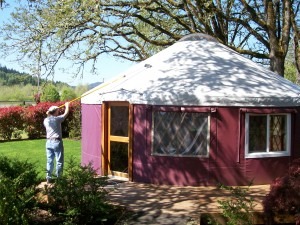 Q: Are the yurt covers flame retardant?
The fabrics used for our yurts are flame retardant, meeting or exceeding flame resistance standard NFPA 701.
Q: How do Pacific Yurts perform in an earthquake?
We do include seismic considerations in our structural calculations. Being lightweight, and with a high wind rating (up to 142 mph), our yurts generally do very well in earthquakes.
Q: Who invented yurts? Where in the world did yurts originate?
The unique circular structures now popularly known as yurts are actually known as gers to their inventors, the Mongolians. When yurts first appeared thousands of years ago, they enabled the nomadic Mongolian people to dismantle and re-erect their camps according to seasonal patterns. Today's modern yurts do vary somewhat from the original gers of ancient Mongolia, but certain design elements, including wooden lattice, support rafters, central compression ring and an encompassing tension band are shared across all yurts, old and new.
Need more basic yurt questions answered? Visit our FAQs section, where we list many additional questions and answers about yurts. Or, our friendly team members would be happy to help—get in touch via email or phone.
View our checklist below for more Frequently Asked Questions
and download it here!