Have you ever considered glamping as your next business venture? Glamping provides guests the opportunity to stay in unique accommodations surrounded by nature, while still enjoying access to the amenities and services you'd find in a typical vacation rental. While there are plenty of options for glamping structures from tents to caravans, yurt glamping provides a beautiful base for customization with the luxurious amenities glamping guests are looking for like AC, fireplaces, electricity, and more.
We'll discuss the initial costs, potential profits, and maintenance associated with starting your own glamping business.
What is Glamping Anyway?
As the opposite of traditional camping where participants set up their own tent, sleep on the ground and change up their everyday hygiene routine, glamping stands for "glamorous camping", an outdoor experience of complete luxury. This departure from traditional camping is in line with current trends showing that vacationers want to explore nature while benefiting from the comforts of home. The glamping craze is an advantageous opportunity for commercial property owners as glamping has a higher return on investment than other vacation rentals, is fully customizable, and has low ongoing maintenance costs.
Are Glamping Businesses Profitable?
More than an exciting trend in the vacation rental space, glamping has proven to be a lucrative business opportunity. The current global glamping market is currently valued at $2.74 billion in 2022 and is projected to reach $5.94 billion by 2030, thanks to the growing demand for staycations, immersive experiences, and eco-tourism by Millennials and Gen X.
Glamping boasts lower startup costs compared to other vacation rentals and can become profitable in as little as six months. Typically, the first year of your business will be more expensive because of the one-time, up-front costs of the yurt and decor, while the second year and beyond will see higher profits.
Startup Costs Involved in a Glamping Business:
Upfront yurt cost
Renting or purchasing land (if not already a property owner)
Property taxes
Business insurance
Maintenance costs
Water
Electricity
Furnishings
Amenities
Additionally, glamping has low ongoing maintenance costs compared to other rental businesses, resulting in a high return on investment. Much of the ongoing expenses associated with running a glamping business are basic upkeep costs and utilities. Luckily, our yurts are sturdy and high-quality, lasting for decades if well-maintained.
Ongoing Maintenance Costs:
Basic utilities (electric, gas, plumbing, water)
Insurance, permit, and licensing costs
Cleaning, laundry, maintenance, and repair services (usually included in a fee)
Staff
The Key Steps to Starting Your Own Glamping Business
Before kicking off your glamping business, it's important to conduct proper research and put together a business plan. Based on your desired location, be sure to evaluate the local glamping regulations or restrictions, the cost to rent or own property, competitors in your area, and even the weather. You'll need to complete market research and decide if a franchise, corporation, sole proprietorship, or LLC is most appropriate for your business.
One of the most exciting parts of glamping is the amount of customization available to create unique experiences for your guests. Many of our previous customers make their business stand out by decorating their rentals in theme to give their guests a photogenic environment.
Your Glamping Business Plan:
Assess your business goals: what does success look like to you?
Write your executive summary and value propositions.
Formulate your business model, operations plan, and financial plan.
Evaluate your target market.
Conduct competitor analysis.
Develop your marketing strategy.
Yurt Glamping: The Ultimate in Comfort and Style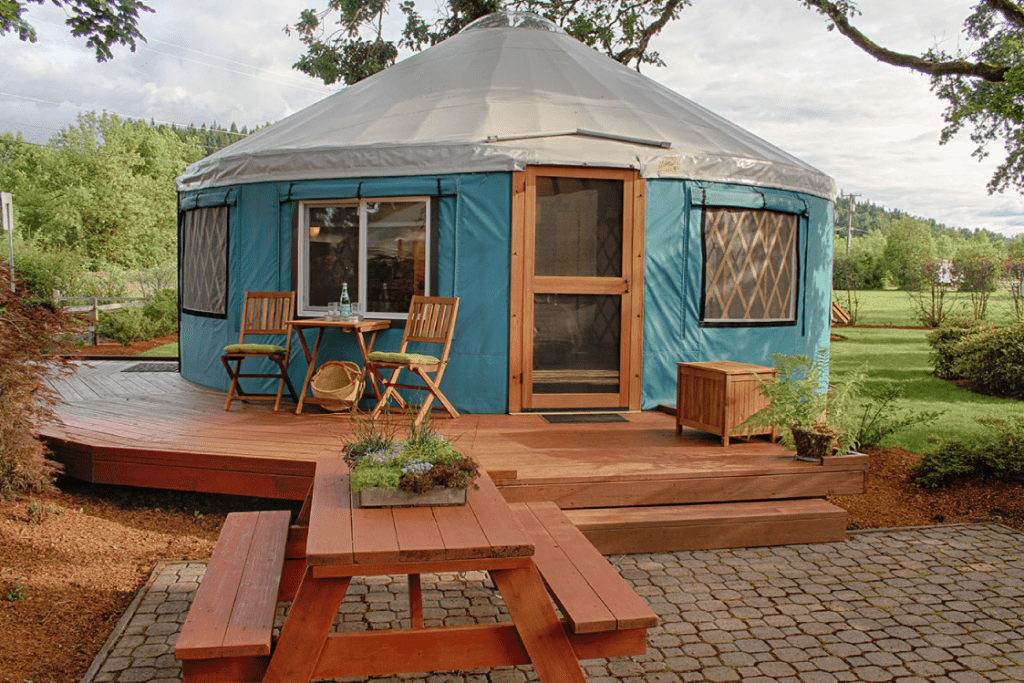 Next it's time to choose your lodging type. This is where yurts really stand out. Round, fluid lines help yurts blend with nature, while the roof design creates a feeling of spaciousness, thanks to the abundance of natural light during the day and views of the starry sky at night. Yurts are also fully customizable, allowing you to add amenities like wood-burning stoves, camp kitchens, or tiled bathrooms, depending on your desired offerings and aesthetic.
Pacific Yurts complement sustainable philosophies as its post-and-beam supported platform minimally impacts the earth and the portability and ease of installation in remote locations provide a connection to nature without sacrificing comfort, security, and protection from the elements. Yurts are beloved by investors in ecotourism as they align with the sustainable lifestyle that customers want while creating a profitable infrastructure.
Amenity Ideas to Keep Your Guests Coming Back
It's time to spread the word about your glamping business and keep your guests coming back year after year. No matter which amenities you choose to offer, don't overlook the power of unique and photogenic touches — these will be the details that get shared on social media and raved about in reviews. Another way to provide excellent customer service for your guests is to know what they're looking for and add a buffer in the budget for miscellaneous guest requests so you can really wow them with that board game they mentioned.
On-Site Recommendations
Fire pit
Sitting area with shade
Books, magazines, and games
Yard games like cornhole or Jenga
Recommendations for Nearby Food and Drink
Cafes
Places to work remotely
Breweries and wineries
Popular local restaurants
Recommendations for Activities
Hike and bike trails
Parks
Shopping
Local landmarks
Get Started on Your Glamping Business Today!
Glamping is an exciting opportunity for any entrepreneur looking to break into the ecotourism market. To learn more about Pacific Yurts and find answers to your yurt questions visit our customer support page. Contact Pacific Yurts to get started on making your glamping business dreams a reality.