One of the most common myths surrounding yurts is that they don't last very long. When properly maintained, these unique structures can provide comfortable and secure spaces for decades to come.
The longevity of your yurt depends on a number of factors. First, where will your yurt live? A yurt in the hot California desert will hold up differently than one that weathers long winters in snowy Colorado. In fact, UV rays are more detrimental to a yurt than snow and wind, so keeping your yurt shaded can make a difference in how long its fabric covers hold up.
Next, what sort of features does your yurt have? Do you have a porch cover or awning to protect your door from sun or rain exposure? What type of fabric is your exterior cover made of? We prepare our yurts for year-round exposure to the elements by using long-lasting architectural fabrics, as well as custom hardware, in their construction. Recycled billboard and other lesser quality fabrics don't measure up, and neither do natural organic fabrics that aren't treated for mildew resistance, fire safety and water resistance.
The life of the yurt's exterior covers can also be extended by following a consistent yurt maintenance and cleaning schedule.
Wood Frame
The frame of a yurt can last as long as any other wood structure. Constructed out of sturdy kiln-dried Douglas fir, a Pacific Yurt frame may last indefinitely if the exterior parts are properly maintained. An exterior wood door requires minimal, but
regular maintenance to protect it from the elements. A fresh coat of stain or paint should be applied at least once a year. Before doing so, you may need to do some light sanding or use a wood cleaner.
Depending on your location, maintenance schedule, and how much use your door gets, you may need to replace it if it wears out.
Outer Covers
We offer several fabrics to choose from for the yurt's outer covers. All of the fabrics used by Pacific Yurts have been carefully chosen for their durability and ease of maintenance. For instance, our standard side cover is made of an acrylic coated polyester fabric that has proven to be superior to heavier polyester/cotton blend fabrics. The average life of our standard fabric covers (roof and wall) has been ten to twelve years. Our premium top cover has a 15 year manufacturer's material warranty, but typically lasts twenty years or more.
To get the longest possible life from your yurt's exterior covers, you should try to place the yurt in a shaded site to reduce UV exposure and wash it regularly to remove any dirt or debris buildup (at least 1-2 times a year). A UV protectant could also be applied regularly to reduce the sun's effects.
Eventually the exterior coverings will wear out and need to be replaced. It's a good idea to inspect your covers regularly for signs of wear, so you can repair any damage or order a replacement cover before the need is dire. Indications that the fabric is simply wearing out would include pin holes, cracking and weak or broken threads.
Windows
People love the openness and energy that windows can provide, so often they have lots of our fabric windows. The UV resistant removable clear windows typically last for the life of the side cover itself, but can easily be replaced i
f they are damaged or wear out. Cleaning the windows using mild soapy water and a soft cloth will minimize the chances of scratches and keep them looking good. For warmer weather–when the clear windows will not be installed–UV web frames can be installed to protect the side cover Velcro.
Dome Skylight
The dome at the peak of every Pacific Yurt is made of very durable 'cell cast' acrylic, built to withstand adverse weather and other stressors. However, as with most materials, it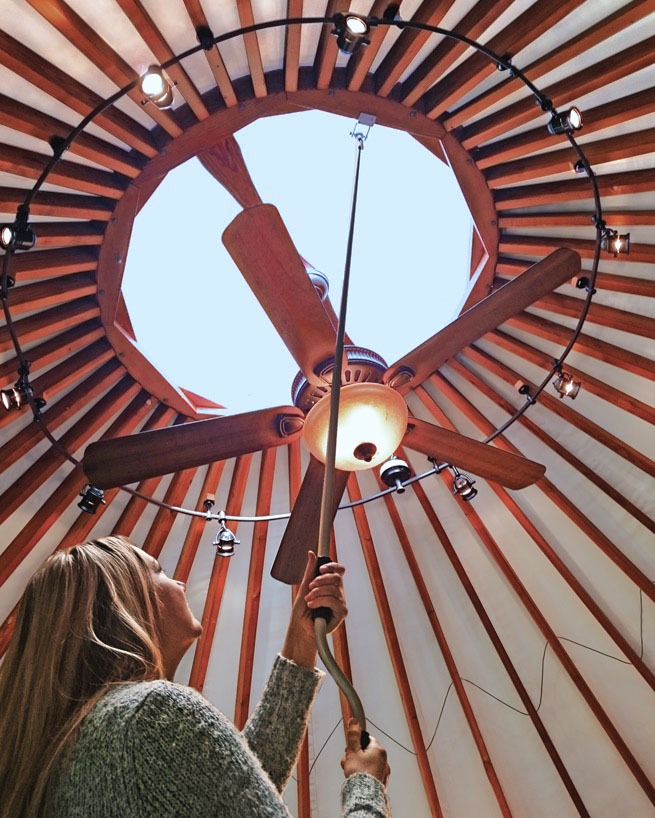 will not last indefinitely. Although the dome could last twenty or more years, it may have to be replaced after twelve to fifteen years.
To keep your dome in good condition, wash it regularly with mild soap and a soft cloth. Never use paper towels and window cleaning sprays or solvents—using those can lead to scratches and cracking. A common reason for dome replacement is damage caused by an improperly installed dome opener spindle. When not installed properly this could allow the dome to be overtightened.
How long your yurt will last boils down to where the yurt is located, how well you maintain the structure and the quality of the materials it is constructed from. When a yurt is made well and cared for properly, it will last far longer.
Pacific Yurts has been the leader in the industry since 1978 when we pioneered the modern yurt, so we understand longevity. Design the yurt of your dreams today that you can enjoy for years to come.