Adventurers in the Great White North can find wonderful places to rent a yurt in Canada's vast, open spaces. We invite you to learn about some of our adventurous customers up north and get and provide information on where to find them.
British Columbia
On the Southwest Shore of Vancouver Island in British Columbia we start our tour with the WYA Point Resort. This part of Vancouver Island is a lush, coastal rainforest. It is minutes from the World Famous Pacific Rim National Park.
The resort offers direct access to private beaches, and you can explore the Old Village site of the Ucluelet first nation. The 16' and 20' yurts at this resort provide direct access to the beaches, and provide amazing amenities, such as summer kitchens, outdoor BBQ cooking, fireplaces, and wrap-around porch decks.
Also on Vancouver Island you will find yurts at the Merridale Cidery and Distillery, which hosts couples for romantic getaways in a beautiful farm setting. This magical place offers peaceful relaxation in luxury yurts, a tasting bar and lounge, a gastropub, and farm tours.
The nearby Soule Creek Lodge offers yurt vacations in Canada for outdoor adventurers and eco-tourists. The lodge is surrounded by hiking trails including the world known West Coast Trail and the Juan de Fuca Marine Trail. Nearby is Botanical Beach famous for its tide pools and forest-meets-beach beauty. Sports enthusiasts can kayak or canoe, surf, hike, or mountain bike. The lodge features a list of themed yurts for luxury stays. (Photo by TJ Watt, provided by Soule Creek Lodge)
On the Southeast side of the island—on an even tinier island called South Salt Spring Island—you can find beautiful yurt rentals on Stowel Lake Farm, an organic farm community. The farm has a retreat and wellness center and hosts weekly movement and meditation classes. There is a bath house within steps from the yurt. Guests also have access to their organic market gardens and perennial gardens.
Just across the water, oceanfront yurts are available to rent at the Wilderness Resort & Retreat at Cawley Point. Luxury glamping yurts are dotted along the shoreline, surrounded by rainforest and ocean views. These secluded and quaint destinations are paddle in, paddle out. The retreat offers a panoramic dining hub with delicious meals and a plethora of other experiences, including astronomy, bird and wildlife watching, canoeing and kayaking, fishing, hiking, swimming, scuba diving, and movement and meditation classes.
Moving east, near the Garibaldi Provincial Park, and on the south end of the Squamish River, you can stay in yurts at the WhistlePunk Hollow Adventure RV Park. Each yurt has a deck, barbecue, and outside picnic table, as well as a separate master bedroom with queen bed and loft area. There is a partial kitchen and a full bathroom in each. In addition to the fishing and hiking, there are mountain bike trails, an ice rink, tennis courts, and Adventure Golf.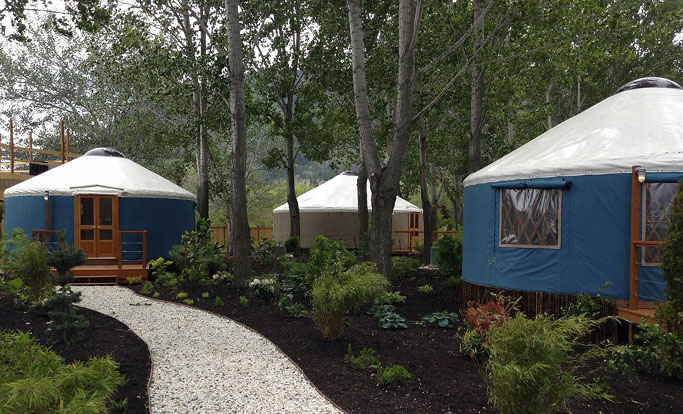 Further east into British Columbia, we find the Barefoot Beach Resort. This picturesque place includes a stunning private beach and a range of yurts from small-and-simple to large-and-luxurious. There is a must-see beachfront CrossFit gym (the first in North America), a general store, a beach market, an ice cream shop, and their Skaha Beach Club restaurant.
Saskatchewan
Further into the interior of Canada, you can visit Saskatchewan's Nesslin Lake Campground. This lake, which is lined with beaches, is located on the west side of the Prince Albert National Park. There is a campground and festival and events site, in addition to both large and small Canadian yurts. Guests can canoe, kayak, and paddle board on the lake, and there are guide services for wildlife expeditions, survival skills classes, and horseback trips, just to name a few of the many adventures.
Ontario
Ontario offers yurt experiences that include fishing and hunting on and around Lynx Lake. The lake has a wide variety of fish, including Walleye, Pike, Smallmouth Bass, and Perch, in addition to some of the best bear hunting around. Guests can drive or fly into this unique and remote destination.  Lynx Lake and its partner, Lake Vaughn, are located deep in the wilderness. These lakes are not ever overfished. They claim that 50 to 100 fish can be caught in a single day.
Prince Edward Island
For a full escape, travel all the way east to Prince Edward Island to stay in a picturesque yurt overlooking the clam flats.
This prime secluded retreat is available most of the year and is a two-minute walk or paddle from two different beaches. There are multiple day adventures to be had by boat, ferry, kayak, or car. Or, you can just enjoy the serenity of the Clam Flats, breezy meadows, and lapping waves. (Photo taken by the owner, Melissa Warner)
Thanks for checking out our customers offering yurt rentals in Canada. To find more yurt destinations just across the border, or in other places around the country, visit our Yurt Vacations page.