Oregon has become a go-to destination for outdoor enthusiasts looking to experience recreational activities with their pets. However, it can be difficult to find dog-friendly lodging if you're planning a few extra days exploring the inspiring landscapes of the Northwest. Many hotels have unfriendly pet policies, and some even charge exorbitant fees just to have your dog come along. But don't resign yourself to calling up the pet sitter yet. 
Where to Find Pet-Friendly Oregon Yurt Camping
Oregon State Parks offer dozens of pet-friendly Pacific Yurts that make it easy for pet owners to find affordable and comfortable lodging all over the state. Whether you're a seasoned hiker conquering Neahkahnie Mountain, or you're looking to take a leisurely stroll through Tumalo State Park, here are a few pet-friendly Pacific Yurt rentals at some of our favorite Oregon State Parks both inland and along the coast.
Pet-Friendly Oregon Coast Yurts
1. South Beach State Park
5580 SW Coast Hwy, Newport, OR 97366
Want to escape to the coast? Newport's South Beach State Park is surrounded by plenty of fishing, boating and surfing opportunities for you and your b
est friend to enjoy. South Beach's campground has a whopping 14 yurts that allow domesticated pets, with accommodations available year round. Their yurts come equipped with electricity, wall heating, two tent pads, a covered deck and a full campsite that includes a firepit and a picnic bench. They also offer onsite toilets and hot showers a short walk from each yurt. The site requires that your pet be leashed while in the campground, but they can run free at the nearby Gleneden Beach.
Rent a South Beach State Park Yurt by booking one online.
2. William M. Tugman State Park
72549 US-101, Lakeside, OR 97449
William M. Tugman State Park is a hidden treasure along the Oregon coast. Located just off Highway 101, this campground offers unforgettable experiences on the scenic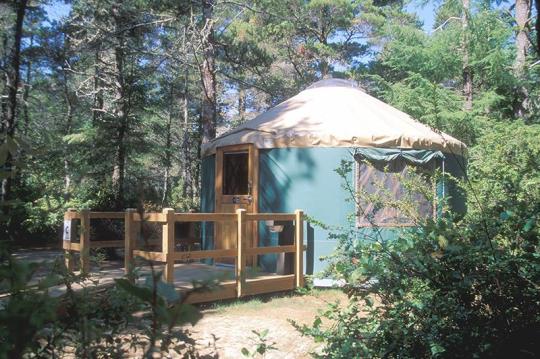 waters of Eel Lake and exciting trips to the popular Oregon Dunes National Recreation area less than a mile away. This park has eight pet-friendly Pacific Yurts that have electrical hookups, lighting, heating and two beds you and your guests can enjoy in comfort. Their day use area also includes restrooms and showers, along with a full cooking area just outside your yurt. Take a dip with your dog during a trek down the North Eel Lake and South Eel Lake trails!
You can rent a William M. Tugman's pet friendly yurts by reserving one online.
3. Nehalem Bay State Park
34600 Garey St, Nehalem, OR 97131
Located on a four mile sand spit that straddles ocean and bay, Nehalem Bay State Park is a beach lover's dream. Embrace romance on a coastal horseback ride, take in breathtaking views of the bay along the forested 1.8 mile bike path, or challenge yourself by hiking the nearby Neahkahnie Mountain Loop. Half of the park's 18 yurts are pet friendly, and include accommodations like electrical and water hookups, as well as nearby hot showers, flush toilets, picnic area, playgrounds, and fire pit. While your dog will need to be leashed in the campground, they'll be able to run and explore off-leash along the coast.
Reserve a yurt at Nehalem Bay State Park by booking online.
4. Beverly Beach State Park
198 NE 123rd St, Newport, OR 97365
Nestled in a forest between Cape Foulweather and Yaquina Head, Beverly Beach State Park offers pet owners ten yurts to choose from and tons of recreation to experience not far from the park. Yurts here come equipped with full campsites and comfortable accommodations that include electricity and heating, along with mattresses that can sleep up to five guests comfortably. Take your dog on a walk down the beach while keeping an eye out for fossils if you're heading south. You can also stroll beside the woodsy Spencer Creek near the campground.
Reserve a pet-friendly yurt at Beverly Beach State Park by booking online.
Inland Pet-Friendly Oregon Yurt Camping Sites
1. Champoeg State Heritage Area
Champoeg State Heritage Area, St Paul, OR 97137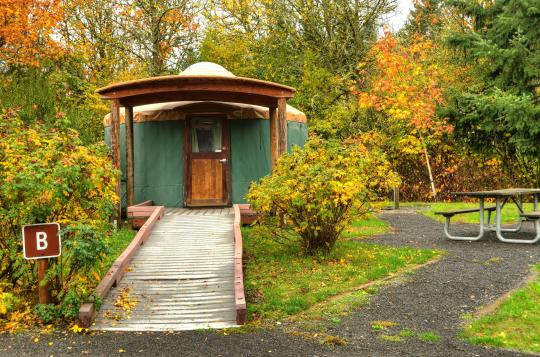 Take a trip back in time with a jaunt to Champoeg State Heritage Area. In 1843, Champoeg marks the first place in Oregon to establish a provisional government. Explore how the pioneers lived on the banks of the Willamette River through stops at rustic cabins, a store and their visitor center. Wind down in one of the park's three pet-friendly yurts on a beautiful historic property that captures Oregon's history. Overnight accommodations include electrical outlets, ceiling fan, wall heater, lights, smoke detectors, one bunk bed (double on bottom and single on top), one futon, a table, and two chairs. Restrooms and showers are also just a short walk from your yurt. You can reserve a Champoeg State Heritage Area yurt online at Reserve America.
2. Tumalo State Park
64170 O. B. Riley Rd, Bend, OR 97701
Tumalo State Park is located on the Deschutes River just four miles away from Bend. Their trails are perfect for mountain biking and hiking, its streams are exceptional for catching trout, and their Pacific Yurts make for a cozy getaway for you and your domesticated best friend. Their two pet-friendly yurts have two double beds and one single bed, and includes electrical outlets, electric heat, lights and a ceiling fan. Enjoy covered porches with charcoal fire pits and picnic tables for you and your guests to enjoy in peace.
Reserve a yurt ahead of time at Tumalo State Park by booking online.
3. Valley of the Rogue State Park
Valley of the Rogue State Park, Gold Hill, OR 97525
Explore beautiful southern Oregon at Valley of the Rogue State Park, situated along the Rogue River. Take in scenic river views on a relaxing 1.25 mile walking trail along the river's shore. The campground is an ideal base to explore the nearby city of Medford, hip and historic Jacksonville, and Crater Lake National Park. Their three pet-friendly yurts include electric heating, lighting, a tent pad, and a fire pit and picnic table.
You can reserve a pet-friendly yurt at Valley of the Rogue State Park online.
Discover More Yurt Camping Locations in Oregon
These are just a few of the many pet-friendly yurts Oregon State Parks offers. Where will you go next? No matter where in the beautiful state of Oregon you and your dog plan to adventure, Pacific Yurts has you covered with our handy yurt vacations search tool.