You've done it. You've committed to buying a Pacific Yurt to create a snug new vacation home, art studio or office. You have decided on the features you'd like your new space to have, such as a kitchen, bathroom or loft, and you've picked the perfect spot to build it. The only things you need to do after receiving it are building the platform and scheduling a time to assemble your new yurt.
First-time yurt owners often ask us, "How long does it take to assemble a Pacific Yurt?" The answer varies depending on a few factors concerning location, experience, and other variables. We provide thorough step-by-step instructions that will guide you through the assembly process. Following those instructions will allow you to assemble the yurt yourself in a timely manner. However, the general rule of thumb is to give yourself as much time as you need to construct it. Don't rush through it. You can also contact us if you have questions or need tips on how to assemble your new Pacific Yurt.
The Platform
The platform is the circular floor structure onto which your yurt will be firmly anchored. While Pacific Yurts
provides the yurt frame, covers, dome skylight and a number of extra features you may opt for, we recommend having a licensed and bonded contractor build your platform. The platform needs to be circular, the same diameter as the yurt you purchased and elevated at least six inches above any exterior decking or the ground. Having the platform elevated 18 to 24 inches above the ground will create a handy crawl space to access plumbing, wiring or storage later on.
We provide a free basic framing plan complete with a list of materials to help guide you through this project if you choose to make the platform yourself, or it can be provided. Again, we recommend yurt owners consider hiring a contractor to build the platform if they do not have any construction experience. You'll also want the platform to conform to any local building codes before breaking ground.
The Basics of Building a Yurt
Many of our customers find the build process to be straightforward. However, several factors determine the amount of time it takes to assemble a yurt. Your building site, weather conditions, yurt features and the number of people on your team all play different roles in how much time it takes to build a yurt. Some smaller yurts can be finished in just a few hours by experienced builders, while bigger ones often take a weekend to complete depending on your expertise.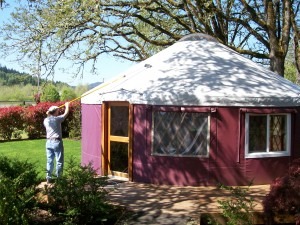 For larger yurts, set aside at least two days to build your new frame and to install the insulation and outer covers. Each of these processes can take up to a day to complete individually, so use the first day to assemble the yurt framework, and the next one for installing your insulation and covers onto the structure.
However, first-time yurt owners may have a few other construction practices to consider when planning around how long the assembly process may take. Even if you have assembled a yurt before, we recommend following the setup instructions that come with your yurt so you are aware of any changes that may have occurred and you don't run into any setbacks.
Yurt Knowledge
Pacific Yurts provides straightforward instructions that walk you through every step of the assembly process to save you time and to make assembling your yurt easier. We also have a toll-free number to answer any installation questions that may come up if you find yourself stuck at any point. However, keep in mind our office hours because we do not have a 24/7 call center. While assembling a yurt yourself–rather than hiring someone to do it for you–can be intimidating, many first-time yurt owners successfully construct their spaces without past construction experience.
Yurt Team
Have the right team and correct information in place before building your yurt. Whether you have a few
enthusiastic friends or professionals at your disposal, being prepared will make the assembly process more efficient. Again, we encourage new yurt buyers to hire a contractor or carpenter if they are feeling unsure about their abilities, but be sure to have them read the instructions carefully if you decide to contract someone.
Pacific Yurts are designed to be intuitive and easy to assemble by people with basic or expert levels of construction experience. Remember, Pacific Yurts has been the leader of the industry since 1978. We are here to guide you through a timely and successful yurt build.