Over the years, yurts have become a well-loved option for lodging, living, relaxing, and working. Their circular shape, the ease of setup, and the light, airy atmosphere within are all characteristics that echo with beautiful simplicity. But yurts are far from basic in terms of design options for the use of space. What our creative customers and yurt enthusiasts around the world have done with their yurts has us firmly believing that when you build a yurt, the only limits to what you can do are those in your own imagination.
From the start, yurt construction is very straight-forward. Our suggested platform plans and detailed set up manual make even a custom yurt easy to build compared to other types of structures. After the yurt is up, the construction options for creating individual spaces, if desired, are numerous and not very complicated. In this post, we wanted to offer some construction ideas from the experts.
Partition Walls
To separate spaces within a yurt, all that is needed is to have a partition wall constructed. This is done after the yurt has been erected and usually by a local contractor. Partition walls in a yurt should be freestanding and anchored to the floor. They can be connected to the yurt's lattice wall or to the vertical supports from a Snow and Wind Kit, but should never be connected to the roof rafters. Incorporating some angles or perpendicular walls will add stability to your partition walls. Here are some common uses of partition walls:
Bathroom—A bathroom space in a yurt needs a partition wall and usually a door and ceiling as well. Many times, the same wall that is installed for the bathroom is also used for the kitchen on the other side. This way the electrical wiring and plumbing pipes in the wall can be shared.
Kitchen—Creating a kitchen space can be done with or without a partition wall. Some yurt owners prefer to create a kitchen along the rounded perimeter yurt walls. This design does usually involve a custom-cut countertop, but small standard cabinets and appliances can be installed at slight angles along yurt walls with no extra cost. In these builds, the cabinets are often used to create the counter space, with the custom-cut counter attached on top. For those who do decide to create a kitchen built along a partition wall, the process is very similar to building one in a typical site-built structure. Electrical wiring can be brought up through the wall and appliances installed as usual.
Bedroom—A partition wall can also be used to separate a sleeping space from the other areas of a yurt. Some choose to create a wall that is also shared with a bathroom to create an elegant master suite.
Loft spaces—Lofts are a wonderful way to utilize the upper interior spaciousness of a yurt. While they should never be anchored to the roof rafters, they can be easily created on top of partition wall structures over a kitchen, bathroom, bedroom, or entryway. Lofts can be used for many things, such as relaxing or storage. They also make lovely sleeping areas offering a clear view of the stars through the skylight, as seen in these spectacular loft pictures from our site.
Office spaces—Quiet areas for reading, writing, conducting webinars, or video calling are becoming popular among yurt owners who choose the freedom of working from home. Partition walls can create work spaces that minimize interruptions from the main living space.
Adjacent structures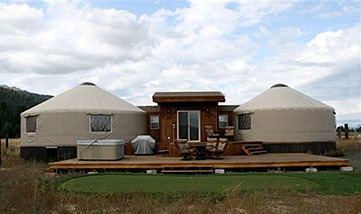 Some yurt owners prefer to build a yurt for each family or business space and connect them. Breezeways and covered porch spaces that stand alone are popular ways to connect yurts as adjacent structures. These connections can be a beautiful addition to your space. Adjacent structures open up several possibilities for yurt lovers. The first is that entire yurt can have a dedicated use. The second is that using covered connections between yurts means that if a yurt needs to be repaired, upgraded, or moved for any reason, it can be easily separated to do so.
Yurts as adjacent structures are also becoming very popular as vacation rentals. Online sites, such as Airbnb, or our own Yurt Vacations page have made access to stays in yurts much easier. As rental locations, yurts are often connected together to create a larger structure for families or groups to convene. For example, there is often a dedicated dining and kitchen yurt that is roomy enough for plenty of extra seating.
Alternatives
Some yurt owners prefer to separate spaces using methods more traditional to yurt dwellers. Spaces can be separated by hanging textiles, such as tapestries or curtains. Some yurt owners prefer elegant standing screens. Rolling yurt walls are also very handy as they can be moved as needed to transform the space. They can even have fold up tables mounted on them.
Contact us today to get started building your next vacation getaway or new revenue stream.