A yurt is a personal place. It may be shared with others, but the size and closeness of the space lends itself easily to being an extension of the yurt owner. It is a place to incorporate what you love most about life. Naturally, the top of that list is usually taken by family and hobbies, but our belongings, the few that really matter, can make a space feel less like a place to stay and more like a home.
Our customers have so many options when it comes to the features of their yurt, but what they tend to revel in most is being able to put their own personalized touch on the yurt design and decor. The fact that, with a yurt, you are in many ways starting with a blank canvas makes it a unique experience. For some, this may be the first time they have given interior decor any real thought. Thankfully, yurt decor is not nearly as daunting as decorating a larger home can be.
Indoor and Outdoor Yurt Design Ideas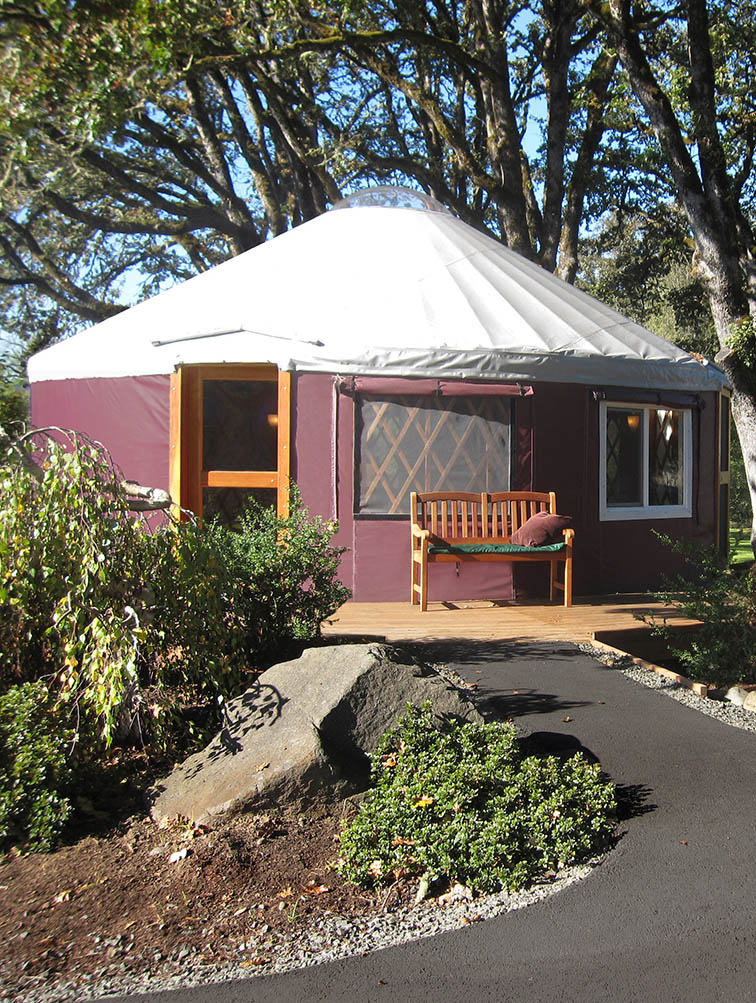 Yurt design begins with the numerous options we provide for the yurt itself. A quick tour of our site, a visit to the gallery, or a few minutes with the Yurt Builder 3D will make it clear that the simple and uncomplicated construction of a yurt need not mean a drab look. The variety of colors, styles, and options make it fun to customize for style preferences. For example, those with style preferences more connected to the outdoors can choose screens for the door (hanging or hinged), and dome along with adding windows to ensure that the yurt can be open to the outside while keeping bugs away.
For the inside, yurt decor can be just as varied as home decor. If you are not sure what your personal style is, you can always take a fun style quiz to see if you can nail something down. Then, once you have an idea of your own yurt decor preferences, you can explore your style further to get ideas for your yurt design. Once you've chosen your preferred style or theme, stick with it! This will ensure you have a decision filter for your choices with matching furniture and accents later on.
Common Design Styles for Yurts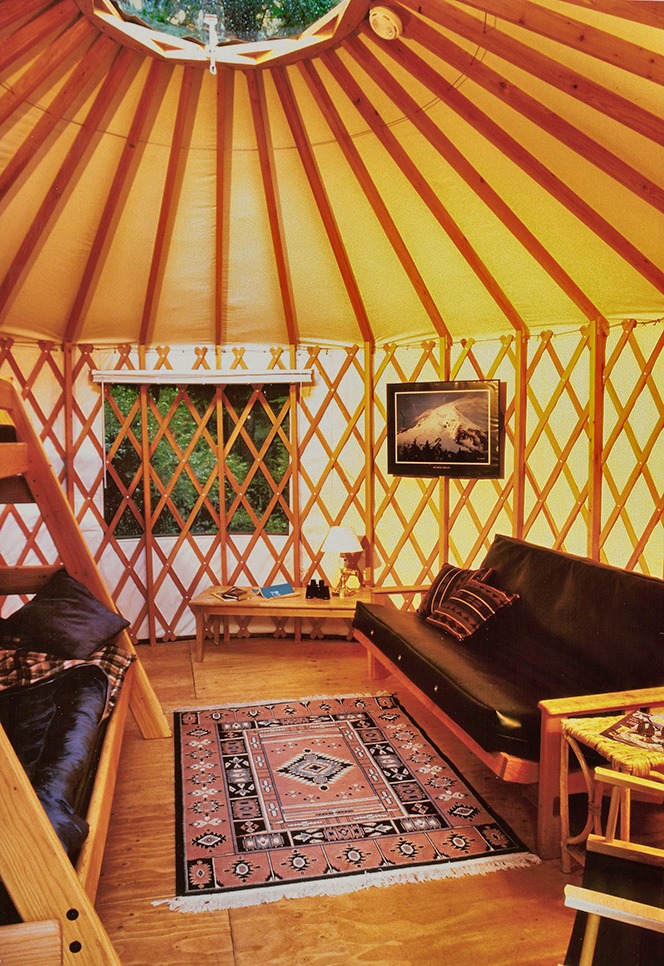 Here are some common styles with which our yurt-loving friends have decorated their unique spaces:
Traditional: A traditional yurt decor style would include anything that calls back to the yurt's origins. For thousands of years, yurts were the traditional nomadic Mongolian homes. Traditional interior yurt design might include hanging textiles on the walls or choosing pieces with an Central or East Asian inspiration. Traditional decor is often pattern-based, with lacquered pieces and brightly colored luxurious fabrics. This style also naturally makes use of the round space and the natural lighting. Beds are often canopied and numerous layered rugs might be used on the floor.
Bohemian: Along these same lines, yurts are often decorated in a bohemian style, which also includes a lot of fabrics and soft, flowy textiles and tapestries in vibrant colors. This style lends itself to plush, comfortable pieces with many pillows on beds, chairs, or even directly stacked on the floor. Modern Bohemian decor is an eclectic mix of styles often inspired by nomadic and cultures, East Indian and Moroccan decor, and tribal patterns. Accents are often done in dark woods, leather, long wool, and metallics.
Rustic: As yurts are naturally reminiscent of outdoor living, many have gone with a rustic yurt decor for their interior. A rustic style will incorporate a lot of materials found in nature: unfinished or reclaimed wood, stone, clay, bone/horn, leather, bamboo, long wool or animal hide rugs, and natural cotton. Metal pieces are often used as accents in this style. Partition walls may even make use of uncut tree branches or unfinished lumber.
Modern: An increasing number of yurt dwellers are coming to the lifestyle from urban environments, and they are bringing their decor with them. Modern yurt decor might make use of white paint for the lattice, hanging white fabric over the lattice in places, marble counter tops, vintage or brightly colored accents, and unique lighting or shelving. Partitions and lofts in this style will often look just like they would in an urban apartment, sometimes complete with high-end appliances.
To finish out any look, regardless of style, you'll want to bring the comforts of home into your yurt decor. Experts recommend adding pillows, poufs, and rugs to soften the surrounding surfaces for comfortable seating anywhere. It's also recommended that you add ambience to your yurt home with warm lighting for the dusky mornings, evenings, and night hours. Of course this is always best done with LED candles and lighting or solar lanterns when possible. And don't forget decor for the outdoor living spaces surrounding your yurt. Brightly colored table accessories and chairs are often used in the outside areas where people gather.
Hunting for the perfect yurt decor for your yurt home can be so enjoyable. We hope we've brought some inspiring ideas to your search!