There is a growing trend in the events industry that has us more than a little excited. With the move towards creating unique, one-of-a-kind experiences for guests and attendees, more people are choosing to use yurts for their personal or business events. We think this makes perfect sense! Yurts are indeed unique, but they are also intimate, open and spacious, convenient, and refined. It's no wonder we are continuing to see their popularity rise. They are the perfect addition to anyone's special day, party, or retreat.
This all begins with the versatility of yurts. They can fit nearly any theme or design, and are wonderfully suited to a variety of purposes. Whether the goal for the event is to provide a get together of elegance or whimsy, cozy chic or rustic charm, yurts bring a delightful element to the experience. The larger ones bring the whole group together to celebrate under one roof and the smaller ones provide intimate side settings to complement the experience. And it certainly doesn't hurt that setting up and taking down yurts is relatively simple and straightforward.
With this post, we wanted to feature some of the creative ways yurts can be used to enhance a get together with family, friends, or colleagues.  From birthday parties to modern yurt weddings, they can do it all.
Food and Drinks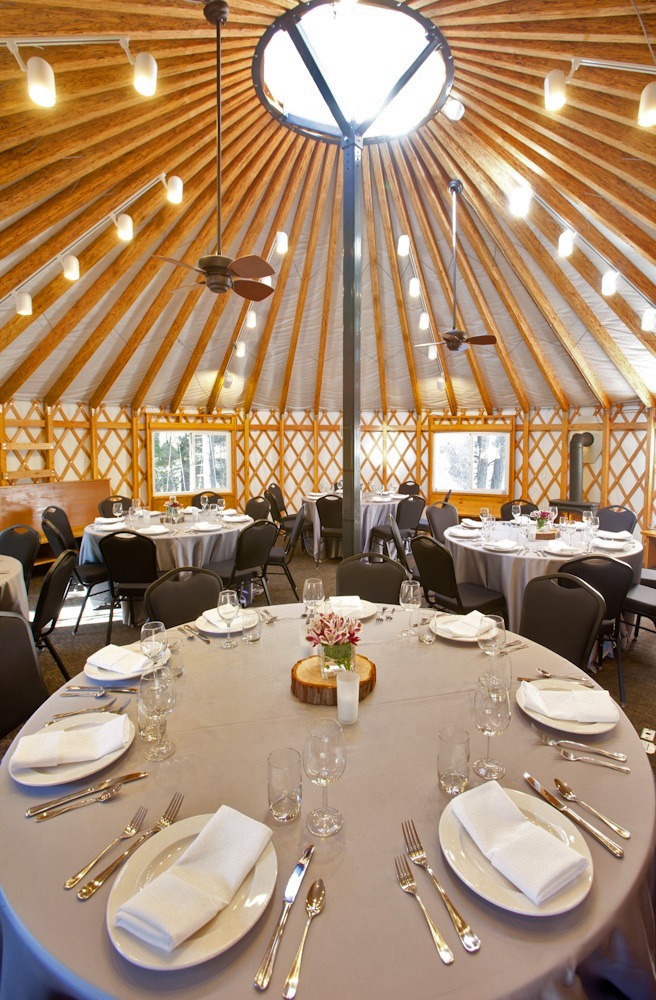 This first one is a no-brainer. Nearly every event has a food-and-drink element in the plan. Yurts are the perfect spot for presenting tables of delightful eats and delectable drinks. Having a dedicated space for themed refreshments is also a nice addition to any get together. Guests are delighted by unique options, such as a raw food bar, a canapé yurt, or a vintage cocktails lounge. The possibilities are truly endless. And after all, who doesn't love a champagne yurt bar?
The Main Gathering
As we have hinted, the trend in events is towards custom experiences. This is true of all events, but it is especially seen with yurt weddings. Wedding trends indicate that couples are inviting fewer guests in order to create more unique moments for them. This can include specialty performances, themed food and drinks, fireworks, or unique games, gifts, or activities. Of course, larger yurts make beautiful non-traditional venues for weddings. Couples are choosing them for the ceremonies and dinners alike. They are spacious but intimate, luminous but temperate. There's even room for dancing.
Getting Ready
Smaller yurts make for a quaint staging or dressing area for musicians, bridal parties, and performers. Pacific Yurts customer Bradley Vineyards offers a yurt for just such occasions in their gorgeous Wedding Grotto.
They can also serve as Mission Control for the event, where the planning team can assemble and from which they can keep everything running smoothly.
Entertainment
For events where guests may have children, a child's yurt play-place or arts & crafts room is just the thing. For bigger kids and adults, a game room yurt with carnival or board games can add a delightful touch.
Cigar-rolling stations are a trend in the wedding industry, as are wine and liquor tastings, all of which can be stunningly set in a yurt. Mid-sized yurts are perfect for performances, speeches, retreat workshops, or indoor sing-a-longs and karaoke.
Our wonderful friends at Strawhouse Resorts offer their lofted yurt for group retreats where connecting with group members can be done in comfort.
Gift Lounge, Coat Check or Greeting Center
For events that offer swag, a small yurt makes for a wonderful spot to hand out gift bags, or—better yet—allow guests to create their own. These can include local treats, drinks, snacks, and memorabilia from the event. For outdoor events, they can also be used as a drop-off area for coats, bags and other accessories. Yurts also offer a nice spot for event hosts to greet guests, or for guests to enjoy a space to relax for a nice change of pace.
Photo Booth or Portrait Gallery
Events are where memories are made, and memories are best kept by pictures! Many event hosts are opting for something beyond a curtained photo booth to commemorate the day for attendees. The trend in modern yurt weddings is even moving towards using a live photographer in a nice setting with props and backdrops. Some are even hiring illustrators and live painters to create one-of-a-kind pieces for guests. Whether for portraits or for do-it-yourself prop photos, a yurt is a great place to capture the moment for any event.
Of course after any event, the best use for a yurt is as a getaway to rest! While yurt camping is a popular honeymoon option, a yurt stay may be just the thing to recuperate for attendees and hosts of any big event. For this, we invite you to visit our convenient Yurt Vacations Tool to book a relaxing post-event stay with any of the hundreds of yurt listings in our network. When investing in a yurt for personal use or business use, we wish you the very best with your next special event!