The skiing community has taken a keen liking to the modern yurt. Every year, many ski resorts are adding new yurts up and down Alpine trails and around lodges, just in time for ski season. The main reasons yurts are trending at ski resorts seem to be related to the appeal of three important things: warm spaces, community experiences, and opportunities to lodge guests directly on the slopes.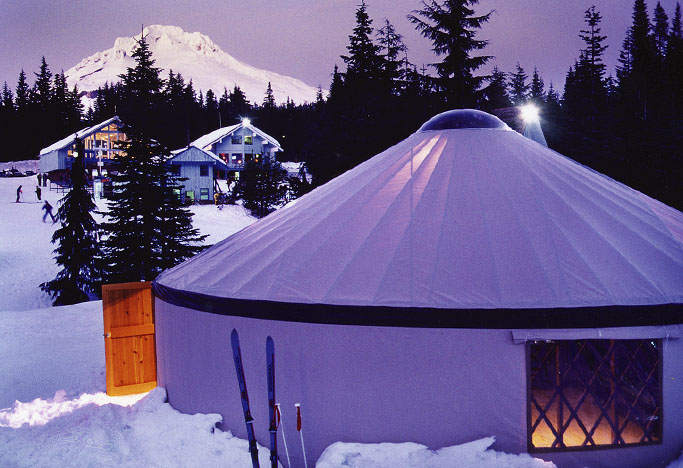 For more inspiration follow us on Instagram!
Cozy Meals and Warming Huts
With all of the energy required for the sport, there's no denying that skiers gotta eat. But beyond the needed sustenance, there is a desire for rest and warmth to go along with it. For this reason, ski-in / ski-out meals in mountainside yurts are becoming extremely popular at many of the top resorts. Who wouldn't want to come in out of the cold to a warm meal, a hot chocolate, and a toasty fire? After a morning on the slopes, a simple meal around a hot stove feels like a tremendous luxury. And, since modern yurts are sturdy, even when ensconced in layers of snow, they create a snug atmosphere of mid-mountain bliss.
For evening meals, companies are finding ways to create incredible dining experiences in mountainside yurts to which one can travel in creative ways. For example, guests at the Viking Yurt at Park City Mountain Resort travel by sleigh to a four-hour shared meal reminiscent of Norwegian culture. And nearby, the Veuve Clicquot Yurt at Deer Valley offers the opportunity for a lavish champagne lunch just off the slopes.
Community Experience
Closely related to the appeal of cozy meals is the appeal of community experiences. To many, yurts also offer unique spiritual experiences. Their round design creates a communal space that has a way of integrating personal connections and the physical senses. Yurt lovers rave about being close to nature yet warm and cozy.
It's helpful that these Nordic settings are almost devoid of noise and light pollution. They are far from the sights and sounds of the city. In a mountainside yurt, it can feel like your group is comprised of the only people in the world. Away from the influence of the outside, and after the vast expanse of the mountain, coming into a cozy yurt feels like a chance to just BE present in the moment.
Slope Lodging
Pacific Yurts create structures solid enough to be erected right on or next to the slopes. Skiers can sleep on the mountain in a warm, sturdy structure, awake to amazing views, and step directly onto the slopes or trails for a day of skiing. The higher the mountain, the better the skiing is right outside the door. One popular such spot is the Baldy Knoll Hut located in the Teton Backcountry. This yurt sits at 8,800 ft. and is surrounded by ideal skiing conditions.
Slope lodging in a yurt means that food and water are nearby when needed. The yurts can be accessed also by snowshoe or snowmobile when necessary. Some Alpine yurts even include a second yurt onsite for après-ski steams or saunas, and they often are well-stocked with games for cozy evening fun.
To find out more reasons why modern yurts are taking the slopes by storm, contact us today!