The modern yurt has come a long way. A few decades ago, a yurt was primarily considered a unique dwelling for those who wanted to live closer to the land. Only the more adventurous among us even knew what they were and would give a yurt a try. The next step in the progression was the use of yurts for rentals. Resorts, campgrounds, and state parks were the next to catch yurt fever, and that industry is still going strong and expanding rapidly. More recently, however, creative yurt lovers have expanded the uses of yurts, and yurt design has made them a convenient option for a myriad of other commercial uses.
In this post, we wanted to share some of the inspiring (and profitable!) ways yurts are being used to enhance people's businesses and lives.
Unique Getaways
It's no secret that companies like Airbnb have turned the hospitality industry on its head. With a few keystrokes, enterprising yurt owners can offer boutique travel experiences to a huge audience with a few simple online listings. This has opened up so many possibilities for families to monetize their farms, land, or even their own backyards. With a small investment, almost any home can become a quaint yurt getaway.
Adventure Businesses
Another growing industry is the adventure business. Wonderful family and group experiences can be created with yurts on location. Some of the more interesting ones include ropes courses, treehouse stays, zip-line tours, and rock climbing destinations. Yurts fit perfectly in these outdoor venues and can be added with little investment.
Fitness Studios
Fitness gurus of all types are choosing yurts for their studios. They are ideal for a variety of fitness classes, including yoga, dance, Pilates, weight training, and spin classes. Yurts also make it easy to add on to your location and thus increase the number of classes that can be held simultaneously.
Office
A growing array of businesses are choosing a modern yurt as their office space. Yurt design, with its circular shape and natural lighting, makes yurts a great option for meeting with clients, seeing patients, and serving customers. This is allowing them to say goodbye to drab office features and fluorescent lighting. Yurt business owners are paving the way for a change in how business is done.
Classroom
Often businesses have something to teach from their area of expertise and need an open space to do it. For example, a backcountry ski business may teach avalanche safety or a river rafting company may teach water safety. An increasing number of them are choosing to hold workshops and learning events for their loyal customers to share that expertise, form deeper connections, become thought-leaders in their market and, in many cases, add another stream of income to their business model. The affordable aspect of yurts makes them a possible addition for almost any kind of business.
Up-and-Coming Options
The modern yurt is making an entrance as a special add on to a business. These include things like:
Garden yurts rented out as writing or art spaces
Studio yurts for massage and wellness professionals
Rental shops for outdoor recreation activities, including skis, fishing gear, bicycles, kayaks or paddle sports
Retail shops for gifts, specialty items, and other merchandise
Yurt food stands for ice cream, gelato, coffee, or fresh produce
Wine tasting / hospitality at vineyards
Service locations for hair dressers, makeup artists, dog groomers, and portrait photographers
And the list, as they say, goes on and on…
Marketing Unique Yurt Businesses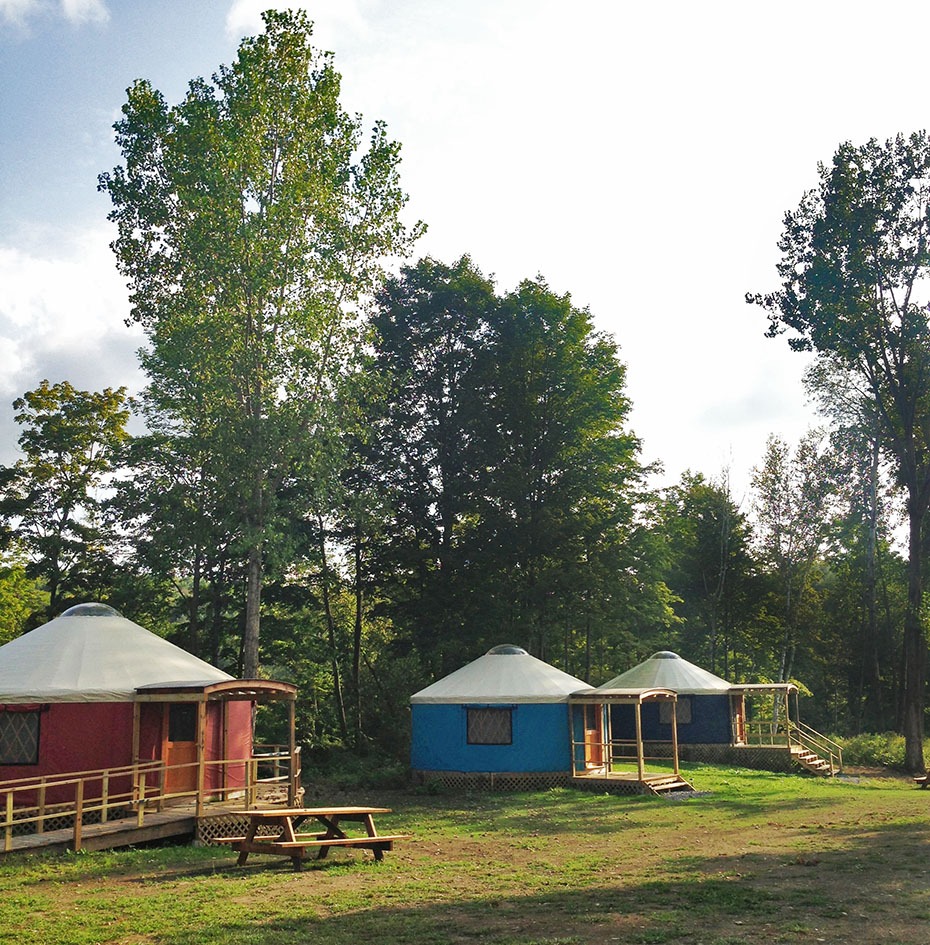 Yurts give business owners a new angle to promote that sets them apart from their competition. A yurt stands out in the marketplace and shows the innovation of the business owner. Businesses can also promote lower prices due to lower overhead and offer a convenience that many storefronts simply cannot. After all, a yurt is even portable. This allows business owners to market their yurt business in non-traditional ways.
We hope you will explore the many uses of these wonderful structures and give us a call if there are any questions we can help to answer about the commercial uses of yurts.