Over the years, Pacific Yurt owners have found creative ways to improve and expand their yurt dwellings. These improvements range from adding new additions to building porches and increasing the dwelling space. Perhaps most common among yurt owners is the addition of a kitchen, which can transform a yurt into a more functional circular living space.
For yurt owners or aspiring fixer-uppers, adding a kitchen to your yurt can be a rewarding challenge, but it comes with its fair share of planning and preparation to start things off. Whether you're a newbie to yurts or a seasoned jack of all trades, here are a few things to keep in mind as you add a kitchen to your yurt.
Review Local Guidelines and Building Codes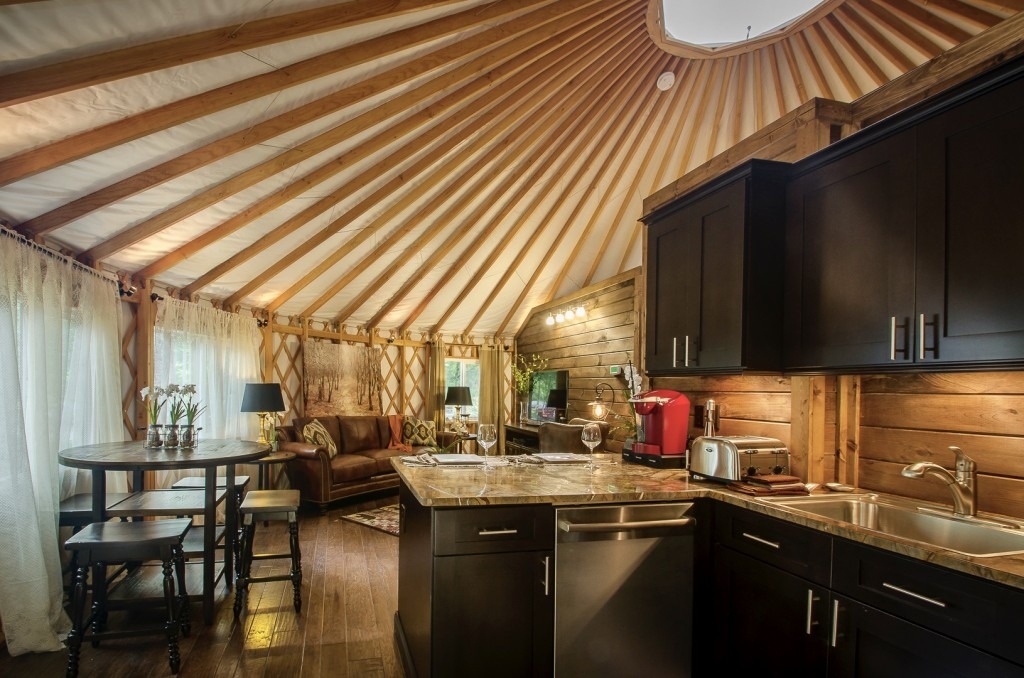 First things first. While most areas allow you to build add ons with limited oversight, we recommend reviewing your local regulations and building codes before construction. Some communities may also require documentation, inspections, and permits before adding kitchens into dwelling spaces like ADUs or yurts.
Many local kitchen codes may relate to the plumbing and electrical systems you wish to install in your yurt. However, some laws and regulations may not apply to your yurt because of where you live or where you intend to build your circular dwelling. You'll want to start by connecting with your local building codes and permitting office for approval guidelines before beginning construction. Doing this will prevent any hiccups along the way and ensure your yurt kitchen is up to code.
Electricity & Plumbing: Know Your Stuff
Apart from permits and the necessary documentation, understanding the basics of electricity and plumbing in your Pacific Yurt will immensely help the kitchen add-on process. However, we recommend hiring a local contractor if you decide to leave this part to the professionals.
Freshwater waterlines can be connected to your kitchen by installing plumbing underneath your yurt platform. You can conceal drain pipes in interior partition walls or below your platform and connect them to your septic system. What's more? You can build a yurt kitchen using the same standard plumbing fixtures you would in a traditional home.
The same goes for electricity. You can wire power underneath the yurt's platform and install electrical outlets fitting your kitchen design. Additionally, you can hide any wiring and install outlets in partition walls. When you're ready, you can power your yurt kitchen with solar power, wind power, or by connecting it to your home's electricity system.
Ventilation is Key
When introducing a kitchen in any space, installing proper ventilation is critical. Cooking produces excess heat that could cause higher-temperatures, which needs to be released to avoid discomfort. Your stove also releases gases, moisture, and fats that could accumulate inside, so it's essential to have an exhaust system that pushes cooking gases outdoors to improve indoor air quality and prevent condensation.
Venting using the dome at the top of your yurt is one option. You may also consider placing your kitchen along the wall of your yurt to vent outside using a flashing kit or install a range hood above your stove and downdraft vent to vent out any cooking gases through the floor of the yurt. Be sure to prioritize circulation and ventilation when adding a kitchen to a yurt to prevent gases or oils from collecting inside.
Invest in Yurt-Sized Appliances
By investing in smaller appliances, you can ensure that your yurt maintains its original spatial integrity without losing out on the opportunity to build the kitchen of your dreams. With the rise in popularity of tiny home living, small and efficient appliances are now mainstream. An abundance of smaller appliances like pint-sized gas or electric ranges and refrigerators have hit the market and are ideal for yurt life. Companies like the Tiny Life Supply are constantly innovating #yurtlife by offering new products and appliances that are easily adaptable to living spaces like Pacific Yurts. 
Make Smart Storage Solutions and Counter Space
One of the best ways to prepare your Pacific Yurt for a new kitchen is to invest in smart storage solutions. Don't overlook your vertical space, add a fold-out table, or hang and put shelves wherever you can. Choosing the right countertops and cabinetry will also help you maximize your yurt kitchen's space and your floor plan.
Some of our customers choose traditional straight countertops built along a partitioned wall. This style works great for yurt owners with partitioned rooms or lofts where they can secure the fixtures against a flat space or for those who wish to buy standard cabinetry from a local store. However, some yurt owners prefer to build custom curved counters along the interior of the lattice wall for the custom look that blends well with the yurt, or they install smaller traditional cabinets set at slight angles to give the illusion of a curve. Alternatively, you can make or buy a kitchen island to provide additional storage, more seating, and extra prep space.
If you're on a budget, we recommend exploring off-the-shelf straight cabinets and countertops or a kitchen island rather than a custom curved build. We also suggest positioning your kitchen back-to-back with a bathroom along a shared wall to consolidate plumbing for efficiency. Whatever option you choose, remember that any additional space you create will allow you to provide for other guests and any extra supplies you'll need.