At some point or another, potential owners of yurt homes have a common thought occur to them. How safe are yurts? Sometimes they give us a call about this and sometimes they just get to googling, but inevitably the answer to their question is revealed: Yurts are very safe—especially when yurt owners take the precautions and actions necessary to proactively avoid problems.
Quality Manufacturing
At Pacific Yurts, we hold to the highest standards for quality design and manufacturing. Our production crew is made up of two skilled teams; specialists in industrial fabrics and wood products manufacturing. This ensures that our yurts maintain consistent high quality and structural integrity. (Visit our company page to see our awards for excellence.)
Structural Safety
The structural elements of a Pacific Yurt are all top-of-the-line. The sturdy lattice wall is made of vertical grain Douglas fir lath and aluminum rivets. The structural grade rafters include hardened steel pins and are notched to fit onto the tension cable. The tension cable itself is made of aircraft quality galvanized steel. These elements, when assembled according to instructions, are extremely sturdy.
Environmental Elements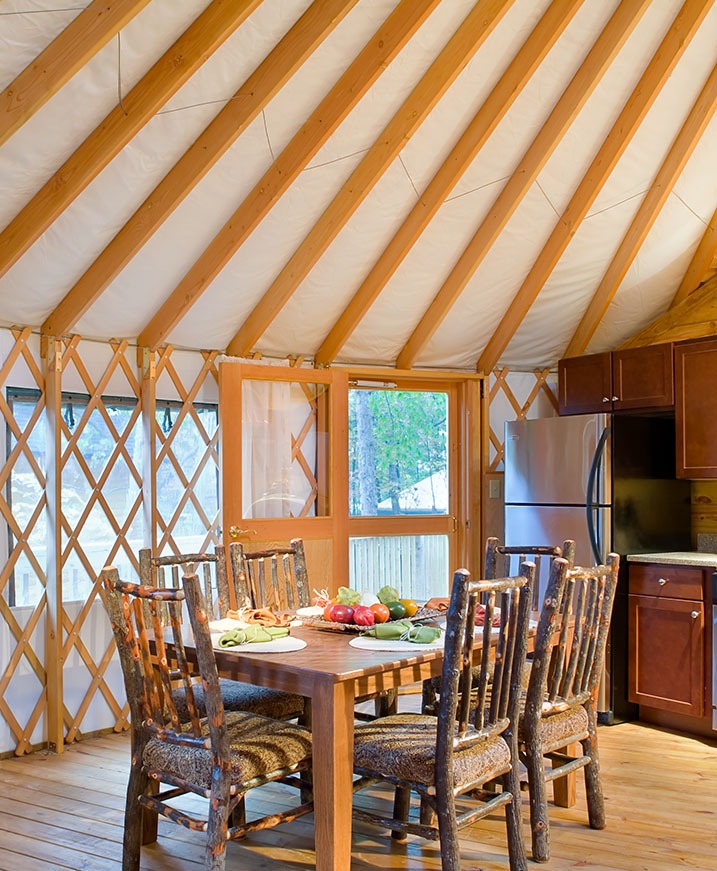 Concerns with environmental elements usually come down to two things: weather and wildlife. Fortunately, our yurt kits can be paired with snow and wind upgrades for added protection from the weather in areas of heavy snow or high winds. Our Snow and Wind Kit includes high quality, kiln-dried supports, hardware and a cable blocking system to add rigidity to the roof. Perimeter Blocking, made of pre-finished 2×4's which installs between the vertical supports, is also available. Our Cable Tie-Down provides additional protection in high winds by securing the center ring directly to the floor, rafter upgrades and a central column of powder-coated steel is available provide increased snow load capacity.
When it comes to four-legged threats, both yurt owners and manufacturers agree that bears are the biggest potential problem with wildlife. It is commonly understood that if your yurt is in bear country, the best way to avoid problems is to make sure that food is not left in the yurt in your absence unless it's completely sealed. Using a bear bag or a food safe away from the yurt (or at least under the platform) is a good habit. For a sure deterrent, wrap a strand or two of electric fence around a perimeter deck or around the base of the yurt platform. The annoyance of a shock will make even the peskiest bears think twice before visiting your yurt.
Fire Safety
Many yurt owners prefer a wood stove for heat and comfort. To maintain fire safety with a wood burning stove, we recommend several things. First, because fire safety is important with any kind of stove, have a small fire extinguisher always on hand. Also, make sure the stovepipe or chimney gets cleaned at regular, monthly intervals to avoid dangerous build up. We recommend having the chimney vent through the side wall rather the ceiling for several reasons, but one of the most important is that it makes it easier to clean on a regular basis. If you have any questions about safety or maintenance with your wood stove, never hesitate to call the stove dealer for advice.
Of course, other heating options exist for yurt owners who choose to install electricity. Naturally, we recommend that a professional be brought in to ensure correct wiring as a part of your fire safety.
Security
We take security seriously at Pacific Yurts. All of our basic yurt kits and custom yurts include a solid door with a high quality residential lockset with a lifetime warranty. There are also additional options to add a deadbolt (keyless entry deadbolts are popular), alarms, and motion sensors. And don't forget, our yurt homes all have a continuous lattice wall that spans from one side of the door frame to the other, even through the windows, making the doorway the only entry.
To put your mind further at ease, we invite you to read through the testimonials from our customers who have faced the elements in our yurts and have shared their thoughts. And, as always, our knowledgeable team of experts is only a phone call away.