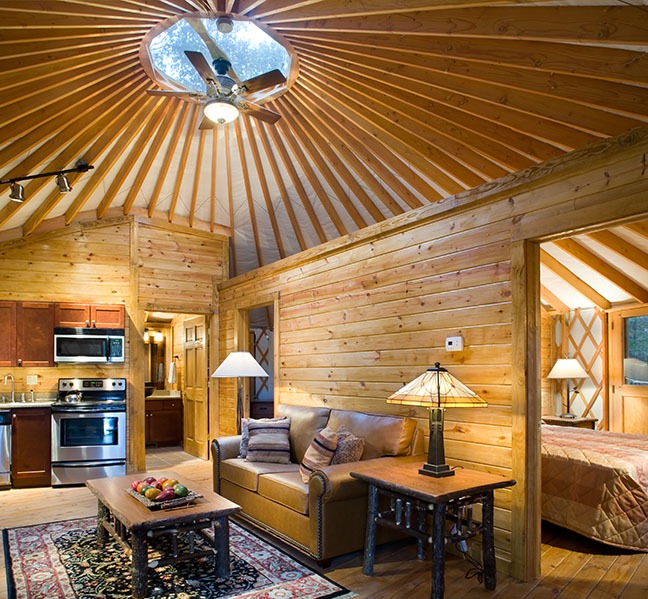 It will probably come as no surprise that we are huge fans of the creative ways our clients incorporate yurts into their personal and professional lives. We are often inspired by their ideas for using standard and custom yurts, and we hope you will be too.
The unique, circular shape of a yurt is described by many to have a spiritual feel to it. Some identify it with the sacred geometry of the circle and others simply appreciate how the symmetry of the space reminds them of nature. There is no question that both business yurts and yurts for personal use allow a closer tie to the natural surroundings than traditional box-shaped structures. These types of connections enhance one's time in a yurt, whether that time is spent for business or pleasure. Here are six inspiring ways to use yurts to create your own personal or business space.
A Place to Retreat
For several decades yurts have been growing in popularity for camping and recreational use in the United States and abroad. Yurt accommodations are cozy in the winter and cool in the summer, so they make ideal overnight spots for wilderness adventurers year-round. State and private campgrounds alike are finding that yurts are popular with their own customers and are often booked far in advance. More recently, resorts and retreat centers are finding that simple yurt kits and high-end custom yurts alike can be used to create spaces for personal and corporate retreat experiences.
A Place to Stay
Yurts make beautiful living quarters, even for those who would not choose year-round yurt living. Stealing away for relaxation and recreation are important and the experience of rest and peace associated with a yurt stay make it ideal for anyone looking to design a yurt for their own getaway. Many of our customers have created idyllic vacation homes and cabins with our yurt kits. Yurts make perfect guest rooms in which friends and family can be pampered, and some of our customers have created luxurious accommodations to this end. They are also an inexpensive and enjoyable alternative lodging solution for temporary housing while you build a home or otherwise transition into your next step in life.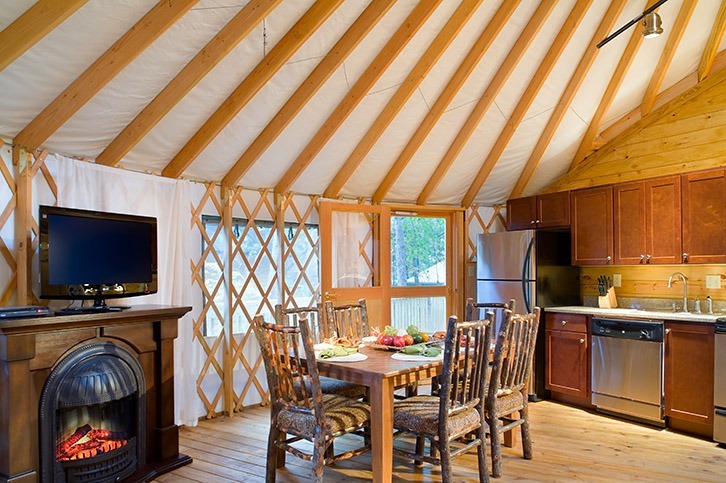 A Place to Share
The unusual circular boundaries of a yurt make it a space conducive to community experiences. In a round space everything is central, and shared interactions come naturally. Yurts are becoming a popular choice for fine dining experiences and as wine-tasting spaces at vineyards. Even without the shared meal aspect, they are ideal as meeting centers for members of organizations to make joint decisions where cooperation is encouraged by the space itself.
A Place to Work
For those who are looking to incorporate some inspiration into their own work, a yurt makes a beautiful office space. Professionals of all kinds are finding that the connection to nature and the peaceful feel of a yurt space are conducive to focused and creative work experiences.
A Place to Heal
A very special use for a yurt has emerged among professionals who specialize in helping bring healing to others. The round and natural space of a yurt is highly conducive to stress-relief and peaceful relaxation, so business yurts are growing in popularity among those offering physical or psychological therapy. These businesses include therapy rooms for massage, group or individual counseling, and enclosed spas, just to name a few. California's Inn at Schoolhouse Creek offers a massage experience in a yurt, and Oregon's Ground, owned and operated by Portland therapist Mitch Bacon, is blazing trails in the area of business yurts for those in therapy professions.
A Place to Grow
Another aspect of this is the growing popularity of yurts for yoga and exercise spaces. Many customers have chosen yurts for personal use as rooms for physical training and stretching. It's becoming a widely known fact that yurt spaces enhance the mindful practices of yoga and meditation. They are increasingly being used for businesses who offer classes in these areas. Talkeetna Yoga in Alaska is a beautiful example of this.
If you are considering a yurt for personal or business use, we invite you to explore our example floor plans online to get an idea of the many options available in a yurt space. We love that our clients are bringing yurt experiences to their own personal and professional lives. We hope you'll do the same.