Have you heard of glamping? This newer term combines "glamour" and "camping" to describe a trend in outdoor enjoyment, namely camping in luxury. While the word glamping is fairly new, dating to 2005, the idea of camping in luxury is not. Sixteenth-century Ottoman sultans enjoyed lavish feasts and theatrical performances in richly decorated pavilion tents. In the 1920s, wealthy British and American travelers went on safari in style, with electric generators, cases of champagne, and even folding baths in their tents.
g
Glamping may be done in a tent, yurt, pod, tipi, or tree house. Affordable glamping lodging is now available across the country – A camping yurt may be reserved in an Oregon State Park for just $44 per night. At the other end of the scale, a luxury Mongolian yurt in Malibu runs $365 per night. Glamping resorts may offer bed linen service, fine dining, and private verandas. Download our infographic for more fun facts.
Essentials for Glamping with Friends and Family
Research what is included in your glamping accommodations. Bring whatever you'll need to feel comfortable and ready to relax. While WiFi is available in some glamping setups, it may tempt you not to "unplug" from the digital world during your stay. Consider leaving technology at home. Forgoing gadgets leaves more time to enjoy nature and your glamping companions.
Cooking
To feast on meals that people of all ages can enjoy, take time before your trip to poll your glamping partners on their personal eating preferences. For group gatherings, we recommend putting each person in charge of one group meal. That way, cooking is spread evenly among all participants, as well as cleaning up the kitchen and dirty dishes.
For culinary gadget enthusiasts, consider bringing a portable oven, capable of baking a pizza or a dozen cupcakes. Portable deep-friers and camping blenders can round out your kitchen collection, along with a transportable espresso machine or French press for those who need their morning latte. Again, make sure you research what is already included in your yurt to ensure that you're not overpacking.
Furniture for Comfort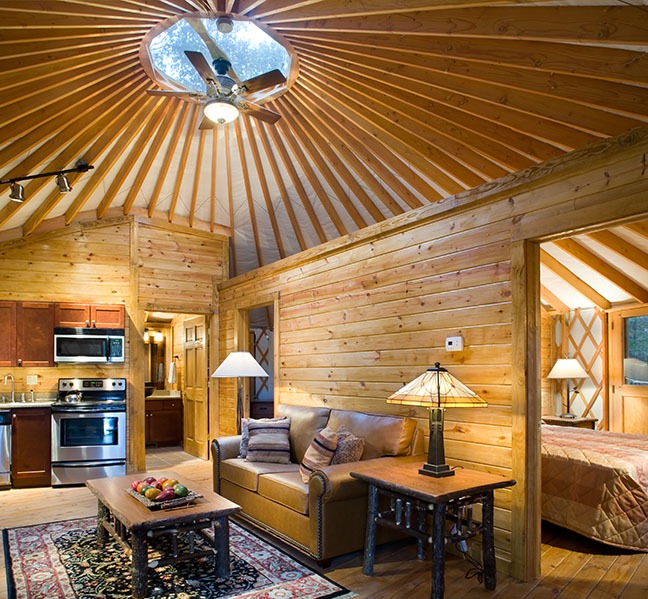 Camp chairs, inflatable outdoor sofas, and folding tables can make your glamping stay more homey—assuming, of course, that these items are not already included in your glamping retreat. Blankets, pillows, and tablecloths will also help you feel cozier while glamping.
Dishes and Utensils
Not all glamping accommodations include plates, mugs, and utensils. Before departure, check that you have everything required for all meals, including tongs, scissors, cutting boards and other tools. Don't forget to bring your own clean-up supplies, such as dish soap and a sponge.
Hiking Essentials
For most people, the whole point of glamping is to escape the daily grind and enjoy nature. Bring binoculars, sunscreen, bug repellant, lip balm, band-aids/moleskin for preventing/treating blisters, and anything else that will keep you happy on the trail.
Ready to try glamping? Check out our infographic for more information!