There are a lot of myths that circulate around yurts. Here we address some of the most common myths we hear and offer our solutions.
Myth #1: Yurts are just like tents with no insulation value, so they are always too hot or cold.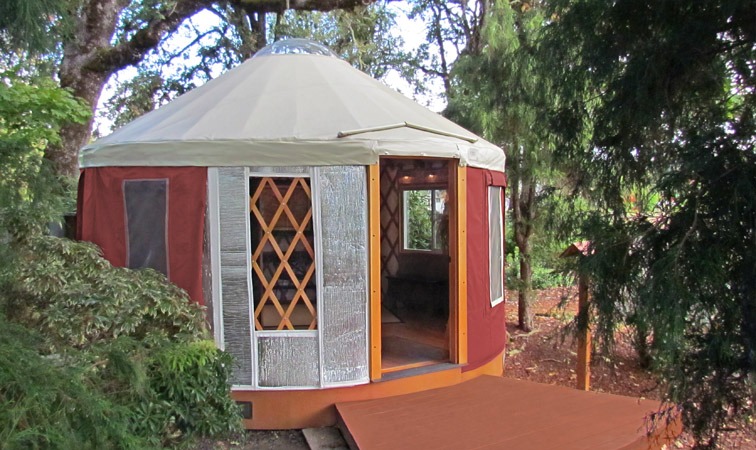 The Facts: Although the yurt's compact, circular shape and conical roof encourage excellent air flow by themselves, reflective insulation is available for the modern yurt to make it more comfortable year round. In addition to having insulation, the yurt can be cooled in the summer by opening the dome skylight and windows to pull fresh air inside and aid in natural convection cooling. A ceiling fan, screen door and operable floor vents can help to increase airflow and keep things cool. A tinted dome, shade screen and window awnings can also be used for unshaded locations. Ductless air conditioners are often installed or ducting under the platform for a central AC unit.
In the winter months, the reflective insulation, along with a good heat source, can make the modern yurt quite cozy and warm. In addition, most conventional heating methods will work in a yurt; from a wood or gas stove to electric heat, radiant floor heating or ductless heat pump. A ceiling fan can be used to circulate the heat inside and insulated window covers can minimize heat loss through fabric windows, or our thermal glass windows could be installed. Additional information about heating and cooling modern yurts can be found on the FAQ section of our website.
Myth #2: Yurts aren't secure.
The Facts: Modern yurts can be quite safe and secure. They include solid doors with a keyed lockset and option to add a deadbolt or even a keyless entry deadbolt. The continuous wood lattice wall spans all the way around the perimeter of the yurt, so things stay safe within. Even if a thief were to cut the side cover they would be stopped by the lattice. This means the only entry points are doorways, similar to a typical house. As with other structures, alarms and motion sensors can be added as well.
Myth #3: Yurts don't last very long.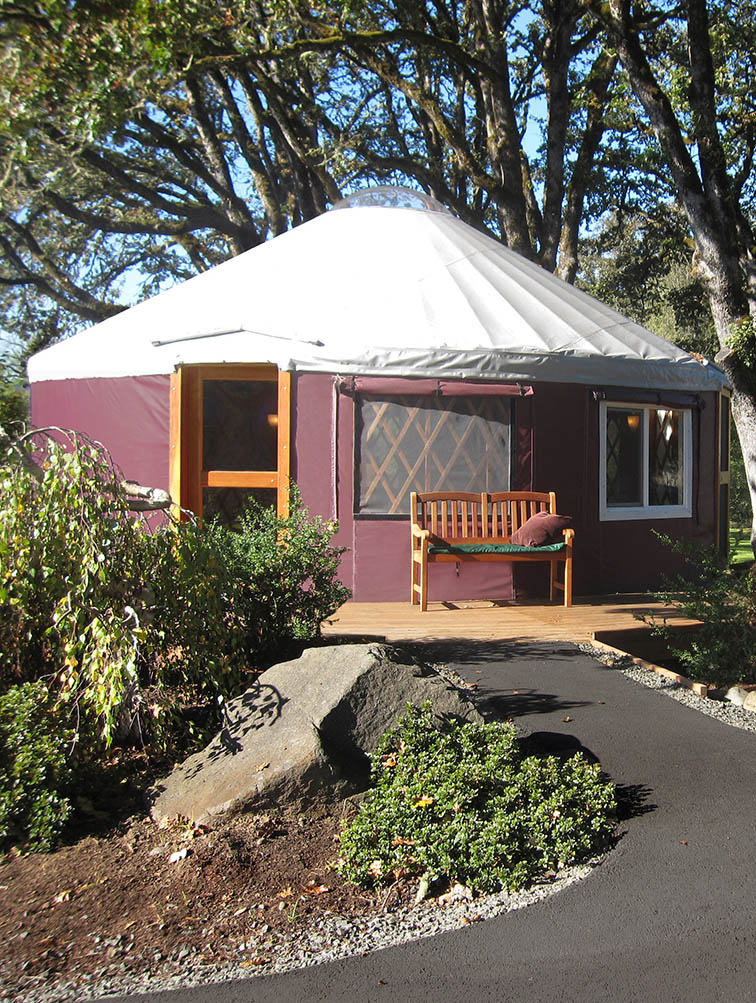 The Facts: The yurt's wood frame could last indefinitely. The only portion of the frame that is exposed to weather is the exterior of the door, which should be resealed regularly. As with any structure, the longevity and/or maintenance necessary will vary depending on the environmental conditions that it is exposed to (UV exposure, moisture, etc.) and the materials used to construct the structure.
The modern Pacific Yurt has exterior covers made from architectural fabrics that are designed for year round exposure to the weather. The average life span of our standard fabrics has been ten to twelve years, while our premium top cover fabric has been lasting twenty years or more. If the top or side cover wears out it can be replaced pretty quickly without having to dismantle the yurt.
Myth #4: Yurts won't hold up to strong winds or heavy snow.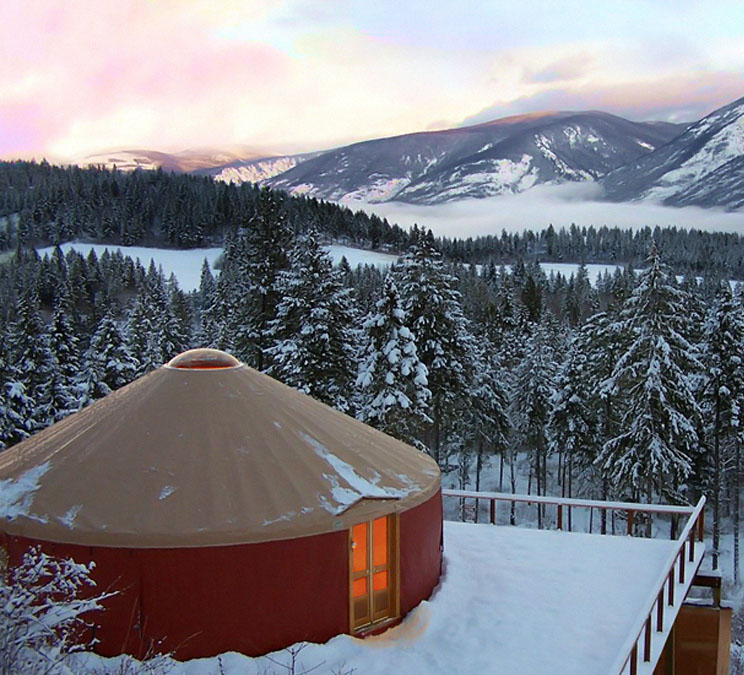 The Facts: The basic yurt design is highly efficient in maximizing strength while minimizing material needed to construct it. The aerodynamic shape means wind easily flows around it rather than pushing on flat walls. Beyond the natural strength of the basic yurt design, the modern Pacific Yurt can include options designed to enhance the structural capability, which are professionally engineered to meet modern building code standards. If you let us know what your roof or wind loads requirements are Pacific Yurts staff can let you know which optional features would be necessary.
Myth #5: All yurts are the same.
The Facts: Although the basic shape and the basic components used to create them are pretty similar, there are many differences between yurts. One example is the wood framework. Every Pacific Yurt is constructed of beautiful Kiln-dried Douglas fir that is sanded and coated with a penetrating oil for a stunning natural finish. Each component is made from a specific grade of lumber chosen specifically for the application to ensure consistent durability and strength. Other yurts are often made from various species of lumber and have components with large knots and other structural flaws that are not within the appropriate grade to provide strength under snow and wind loads.
Many yurts are built using brackets and hardware that is readily available at local hardware stores and is intended for framing that is hidden within a structure. Pacific Yurts utilizes custom hardware that is specifically designed for strength in the intended application and coated for weather resistance and lasting beauty. The wood framework of the yurt is completely exposed to the inhabitants, so any hardware used on it should not detract from the aesthetics.
The exterior fabrics used on a yurt, and their construction methods, can also be another big factor in the longevity, ease of maintenance and overall satisfaction a yurt provides. Recycled billboard or other inexpensive vinyl fabrics will not provide long term durability or have the fire safety necessary for a long term outdoor living structure. Natural organic woven fabrics sound wonderful, but require a lot of maintenance in most climates and are typically not treated for mildew resistance, fire safety and ongoing water repellency, thus are unsafe and offer limited longevity. Connection points between fabrics (or between the fabric and the platform) can also result in a shorter life span of the yurt covers. Sewing fabric using thread that will not last as long as the material itself is certain to cause problems.
Pacific Yurts is the leader in quality with the knowledge and experience to assure your long term satisfaction. Contact our dedicated  team members to answer any questions and to learn more about us, or start building your quality yurt with our unique Yurt Builder 3D tool.