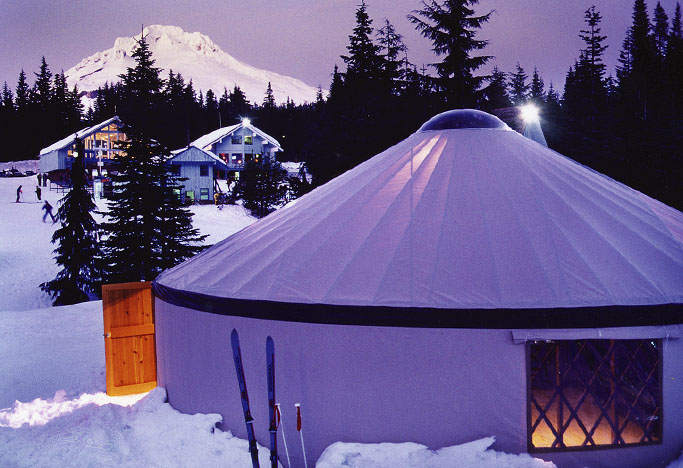 Some of the most popular destinations for winter vacations also happen to have some truly unique options for yurt lovers. Yurt winter camping has taken off in these locations and for good reason. Regular hotel vacations pale in comparison to the novelty and adventure of a yurt experience. And, whether you travel to get away from the cold or get closer to the snow, yurt camping enhances the trip every time.
Take a look at the top states for winter vacations and their incredible yurt accommodations.
Arizona
Between the holiday season and spring break, Arizona is a popular destination because of its mild weather and quiet, open spaces. The Arizona wilderness is the perfect place to experience a yurt vacation.
Yurt winter camping is featured at the Cochise Stronghold Retreat, which offers glamping for families and couples in a canyon surrounded by 64,000 acres of evergreen forest. In addition to the hiking and stargazing, there are immense granite cliffs for climbing and 7,500 foot stone formations for exploring. The winter yurts at the Arizona Nordic Village near Flagstaff are available in front-country and back-country options. They are famous for their 40 kilometers of beautifully groomed cross-country ski trails.
Hawaii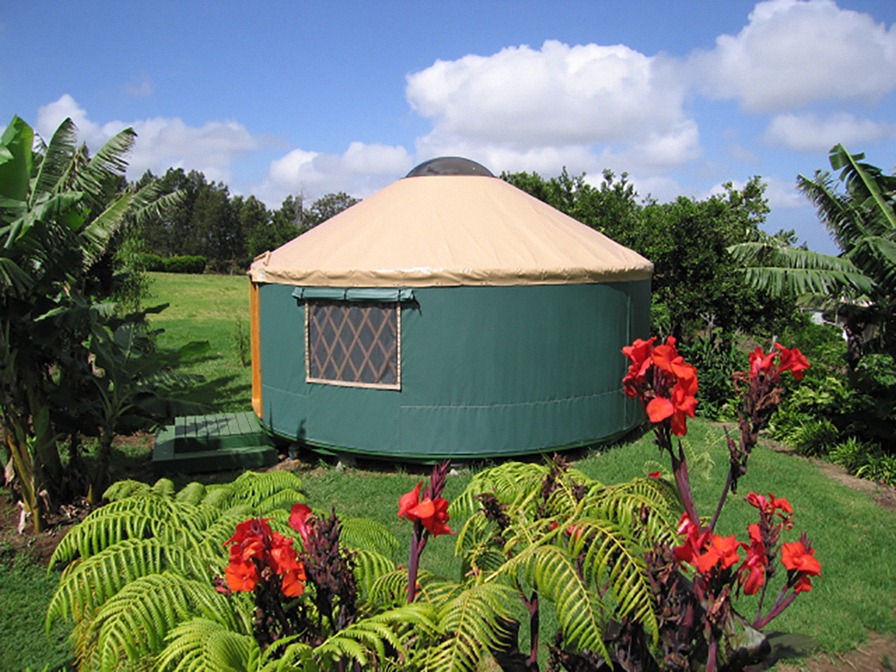 There's never a bad time to visit Hawaii, but winter is when we all find ourselves dreaming of that gorgeous sun and sand. For those looking to escape the cold, Hawaii is an obvious choice. Even with the occasional rainfall in the winter months, most of it falls overnight, leaving days open for outdoor activities. Winter waves are a draw for many travelers (20 feet or higher!), as is the humpback whale migration that peaks in the early months of the year.
Hawaii has some spectacular ways to enjoy yurt camping. Visitors to the Hawaii Island Retreat on the Big Island can dine on organic cuisine and relax with luxury spa services while staying in a unique Hawaiian Yurt Village, hidden away in a grove of ironwood trees. The adventurous types can stay in the Yurt in the Sky on top of a mountain 4,500 feet above the village of Ocean View, with sweeping views of the ocean and the stars.
California
Travelers to California in the winter are sometimes looking to stay close to the major cities for the attractions. Los Angeles is popular during winter for the amazing food, the shopping, and the glamour of the Hollywood awards season. In Northern California, many love the galleries and theaters in San Francisco during the winter months, and January draws travelers from around the world to sample the incredible dining during Restaurant Week. But for those looking for winter sports adventures, the mountains boast slopes, terrain parks, snowshoe and cross-country skiing trails, and outdoor skating rinks. Yurt camping is available in California for both kinds of travelers—and there are many locations to pick from.
A quick search using the Yurt Vacations tool on our site will show that there are over 44 yurt sites available to visit in the Golden State. From a Malibu Yurt and Zen Retreat on an organic citrus farm to the luxury cliff-side yurt lodging offered at Treebones Resort in Big Sur—California has many options when it comes to unique yurt camping experiences.
Utah
Travelers to Utah in the winter love that no matter where they stay, they are only a short drive from the slopes. What makes this even better for those looking for a yurt vacation experience is that Utah is home to some of the most luxurious yurt camping locations anywhere.
The Summit Mountain Lodge and Resort offers 14 luxury yurt experiences, each with a unique themed decor (Harley Davidson and Zen are popular ones) and popular amenities like a private bath, flat screen TV, and wifi. The resort at Blue Sky Utah offers luxury yurt camping, a state-of-the-art shooting club, an equestrian center, and fine dining, in addition to western-themed adventures and guided fishing excursions.
Colorado
Winter sports enthusiasts are drawn to Colorado for the snowboarding, skiing, snowshoeing, and skating. There are miles of snow to explore on a snowmobile and hundreds of hills for sledding or tubing adventures. There's something for everyone, with a wide variety of resorts featuring crazy slopes and quiet backcountry trails.
For yurt lovers, Colorado has a wonderful selection. The Joyful Journey Hot Springs offers yurt winter camping with spa specials, hot pools, and yoga classes. Overlooking the Colorado River is State Bridge, with onsite yurt lodging and plenty of nearby outdoor activities.
Keep these amazing places in mind as you plan for your next winter trip. Our Yurt Vacations tool will make it easy to find a yurt accommodation wherever your adventures take you.