One of the best places for yurt vacations is in the Lone Star State of Texas. With its sweeping views and an abundance of places to explore and experience nature, Texas is a great place to stay in a yurt.
We rounded up five of our favorite places and we've saved you a seat by the fire. From the northern part of the state on down through to the Gulf of Mexico, we found some great Texas yurt vacation destinations you are sure to love.
Coyote Ranch Resort
North of the Dallas and Fort Worth metro areas sits a gorgeous 90-acre resort called Coyote Ranch. The resort is a perfect place for vacationing, but it's also a place to host incredible events for family and friends. The resort boasts a Grand Lodge, multiple event halls, a covered pavilion, and a beautiful wedding chapel. The resort is also partnered with Jellystone Park Camp and Resort, which is a fantastic place for families with kids, as it has everything kids love, including laser tag, swimming, mini golf, fishing, horses, playgrounds, sports courts, and even a maze and splash park!
Pine Gardens RV Park and Campground
Just south of the metro, on Cedar Creek Lake, there's a 20-acre park where you can spend yurt vacations fishing, swimming, and boating. Pine Gardens is a quiet, out-of-the-way vacation spot for those who want a true small town experience. In fact, it's surrounded by several small towns offering unique dining, boutique shopping, golf, and more. There are flea markets and afternoons of antiquing to be enjoyed as well. And for the kids? How about a swimming pool with a waterfall!
Cypress Valley Canopy Tours
Further south, just outside of Austin, an incredible opportunity for a memorable yurt vacation awaits. Cypress Valley Canopy Tours offer treetop adventures with zip lines and a yurt tree house.
Nestled among ancient cypress trees, a yurt rental has been built as a luxury tree house. In addition to zipping through the canopy, guests in this Texas yurt can also swim, hike, or relax in the heated natural rock tub.

Rancho Poquito Vacation Rental
In the same part of Texas, just over a bit toward Lake Travis, there's a unique location for large gatherings of friends and family to stay all together. Rancho Poquito is a private, gated ranch-style home on 10 acres, with two yurts for families or groups vacationing together. The house itself has two bedrooms and can sleep ten people. It includes six TVs, a large game room, an outdoor kitchen and deck, fire pits, and a stocked fishing pond. The king and queen yurts each have their own bathroom as well. Thank you to Bridget Daehler Photography for the photos.
Camp Coyoacan
For a completely different type of experience, beach lovers can stay in a yurt right on the Gulf of Mexico at Camp Coyoacan. This camp is located in Port Aransas (or "Port A"), which is found at the end of Mustang Island. The Gulf waters offer incredible views of wildlife and rolling waves, and the nearby town is a unique experience, especially for art lovers. The camp offers both tent cabins and yurt rentals. There is swimming and dining at the camp itself, or a unique nightlife scene in the nearby town.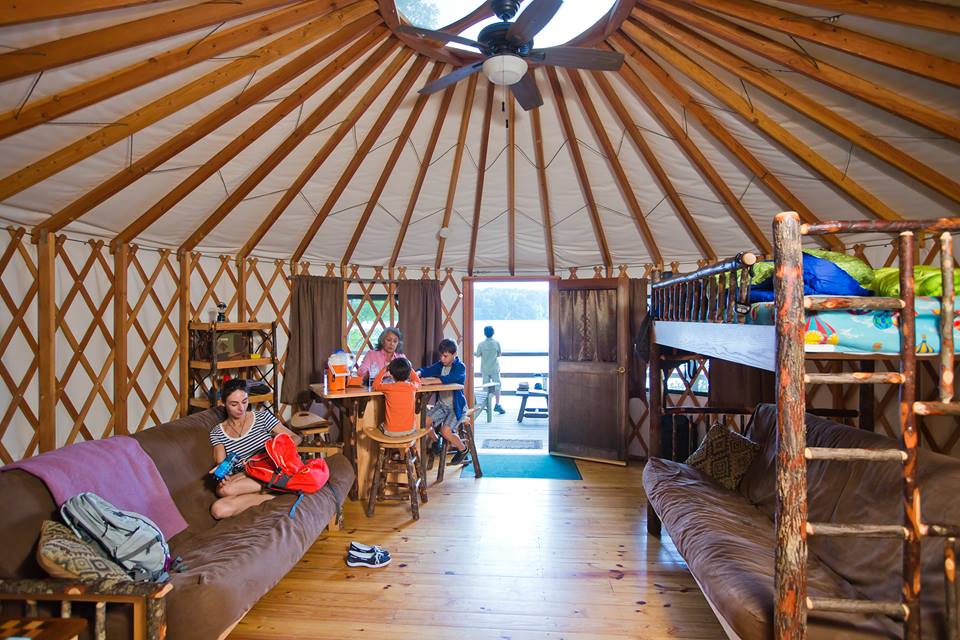 Yurt vacations are unforgettable experiences. For families, they offer times of connection and a slower pace that makes room in the schedule for time with kids and teens.
For couples or lone adventurers, yurts make the perfect getaway from commutes in hectic traffic and long work days. Many of our customers first fell in love with yurt life because of yurt vacations they took prior to purchasing one of their own.
And don't forget that there are places to try Pacific Yurts all over the United States and abroad. Want to take a look at the many options available? Click on over to our yurt vacations page and use our search tool. With so many options, we are sure you will find somewhere fantastic to stay in a yurt!